On-stage chemistry and audience rapport keep the laughs coming during a weekend of adventures.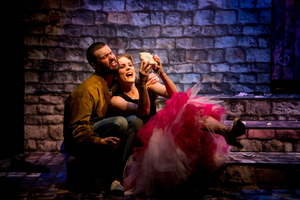 This likeable, happy-go-lucky two-hander starts off with a bang - or at least, a raucous tussle of clothed lust. Helena and Bob aren't expecting to hook up when they both enter a posh Edinburgh bar where lawyers are "lawyering around the room", but they both need an escape. So hey, why not?
After the opening scenes, the pace slows a bit but Scottish playwright David Greig has a brilliant way with words and this 2008 play is knowing, funny, and both physical and chatty. The script apparently doesn't indicate which of the characters should speak which storytelling lines; they are cleverly shared in this Silo show.
The weekend city adventures are generic but the 30-something angst ("is this all there is?") rings true. The script teases, jumping forward and back, making us eager for what's next. What's this about Elmo? And ... Japanese bondage?
Directed by Sophie Roberts, the performances by Aidee Walker and Dan Musgrove are magic - natural and compelling, with great stage chemistry and audience rapport.
Walker's luminous face and defined cheekbones contrast fabulously with Musgrove's blurred burliness as the petty criminal so nondescript he's known as "Middle Bob".
The Scots accents lead to inadvertent felicities: it sounds like Helena describes herself as a "divorce liar", rather than "lawyer".
There are also short songs by Gordon McIntyre, but whatever. Apart from an amusing ode to hangovers, and a line about wanting to be told "there's substances in our bones", the modest melodies and earnest lyrics fall short of the dialogue, and they really do seem superfluous, particularly the reprises, which make the evening unnecessarily long at 100 minutes. The actors accompany themselves with acoustic guitars.
Rachael Walker offers varying faux-cobblestone platforms for the actors to play on, and a perfectly simple/sophisticated little black dress for Helena to wear.
The show is light-hearted without being air-headed - probably a good date night, but just as fun with friends. If this is a hint of things to come, then roll on midsummer.
Midsummer
When: Until November 23
Where: The Loft, Q Theatre