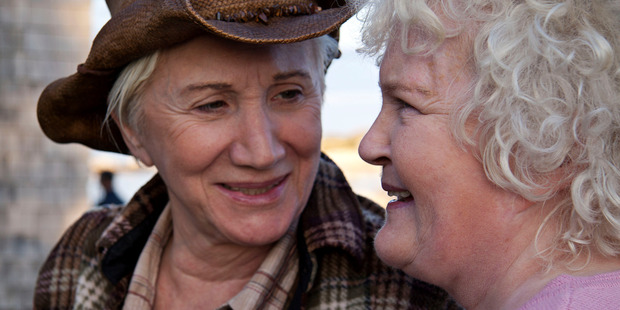 Oscar-winners Dukakis and Fricker are the buddies in this buddy comedy that is equal parts heartfelt and funny, even if the humour is often of the broad kind.
If the main characters had been young and heterosexual, it might have been sentimental and predictable, but since they are neither, it has an extra zing and it seems a shame that this is one of the few countries where it's playing outside the Lesbian, Gay, Bisexual, Transgender (LGBT) festival circuit.
The two actresses play, respectively, Stella and Dotty, a Maine couple who, after being together 30 years, climb into Stella's truck (its radio locked on k.d. lang) and hit the road for Canada to wed.
It's no sudden love, but a plan to outwit the blind Dotty's granddaughter Molly (Booth), who aims to put her in a nursing home and get the couple's house.
En route, they pick up a hitchhiker (Doucette, whose character slyly tips a stetson to Brad Pitt's in Thelma and Louise, though he hangs around longer and is a much nicer guy).
Writer-director Fitzgerald wrote this as a stage play and the script has the precision of a Swiss watch, despite lapses in geographical logic and faintly silly slapstick. Some of the lines have a jarringly theatrical ring, but by the same token they are well-honed and often sparklingly funny: many are also deeply and hilariously rude.
Mostly, it's fun to watch Dukakis, one of the great actresses of her generation, get to grips with a seriously grumpy and genuinely soft-hearted dyke. It's slight, but sweet.
Stars: 3/5
Cast: Olympia Dukakis, Brenda Fricker, Ryan Doucette, Kristin Booth
Director: Thom Fitzgerald
Running time: 93 mins
Rating: M (offensive language, nudity)
Verdict: Dukakis a knockout in slight but sweet dyke buddy comedy