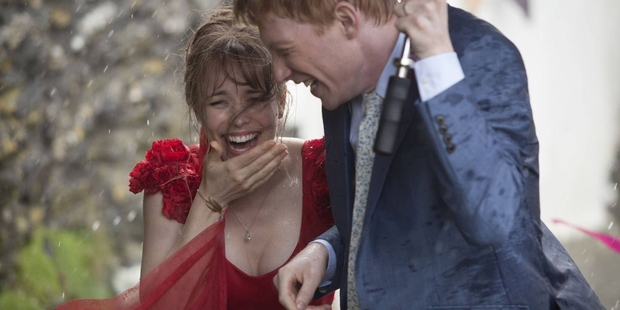 Richard Curtis, who wrote the screenplays for Four Weddings and a Funeral and Notting Hill and was the writer/director of Love Actually, uses time travel as a storytelling device in his latest romantic romp - all in an effort to prove you only need to live life once, as long as you live it well.
It takes a long time to get to the point of this film - to cherish loved ones and live for the moment - and when you get there it seems so obvious you might wonder what's been going on for the past couple of hours.
Well, what has been going on is much the same as previous Curtis films. Lovely, bumbling Englishman Tim (Gleeson) falls for London-resident American girl Mary (McAdams) and after negotiating their way through a series of misunderstandings they find true love. Along the way there's a wedding and a funeral, of course, and plenty of self-deprecating wit. The twist is that the added device of time travel means we get to do all this twice.
The method of time travel is deliberately silly. Tim presumes his father (Nighy) is having him on when he tells him men in their family can travel, and that they do it by shutting themselves in a cupboard, clenching their fists, and thinking of a moment in their life they'd like to return to. The scene where Tim tries for the first time is a delight, with Bill Nighy giving a very endearing performance.
Being able to travel back in time is essential when it comes to Tim wooing the love of his life, a very bookish-looking McAdams. Firsts with Mary quickly become seconds; as you can imagine things improve second time round, but while it adds some humour it also reveals a downside - it turns Tim into a fraud.
Curtis has compromised his lead man by seeming to ignore the selfishness of one man changing people's lives to suit himself, but Domhnall Gleeson is so likable as the Hugh Grant of all this, it's easy to forgive him. Gleeson handles the slapstick well, has a sweet chemistry with Rachel McAdams and the chops to handle the more dramatic moments. Other than Gleeson, McAdams and Nighy, everyone else just gets lumped rather lazily into the quirky box.
About Time is less funny and more philosophical that we expect from Curtis, and is a shapeless film that meanders on. But it still has all the right cues to make you laugh, and cry. Unfortunately, it will also have you glancing at your watch wondering when time will be up.
Stars: 3/5
Cast: Domhnall Gleeson, Rachel McAdams and Bill Nighy
Director: Richard Curtis
Running time: 122 mins
Rating: M (offensive language and sexual references)
Verdict: A long, formulaic Richard Curtis rom-com