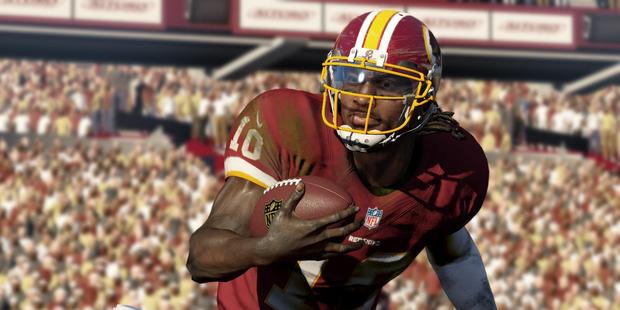 In 1988 NFL commentator and former Super Bowl winning coach John Madden lent his name to the first 11-on-11 American football game on MS-DOS, which over the next 25 years helped shape the sports gaming industry: along with it came an alleged curse on anyone who graces the cover.
A curse shouldn't worry running back Barry Sanders who has the honour to front the 29th version of Madden, since he retired in 1998. It's a nod to the greats of the series (most of whom appeared in pixel-heavy form). You can play as a number of these players in career mode where you try to recreate their hall of fame careers.
And the nostalgia doesn't stop there. There are also little factoids on previous Madden titles during loading screens, which remind you just how far gaming has come not just in 25 years but also the past five.
All the usual outstanding features are available: franchise mode, which has the addition of owner mode (just in case you want to feel like a billionaire octogenarian), Madden moments and of course online play, where teenagers across America get their weekly morale booster by handing me a thrashing.
As always the gameplay is fantastic and the graphics very slick.
The downside is not enough moving forward. Improvements are slight. Thirty new moves have been added to enhance the running game while the physics engine has been improved but not enough to blow you away. Collecting cards to build your own team is probably aimed at gamers more than half my age. With the PS4 coming out at year's end you can only hope EA are holding out on some new trick plays.
Stars: 4/5
Platform: PS3, Xbox
Rated: G
Click here to buy Madden NFL 25.
Follow @nzherald_ent on Twitter for all the latest entertainment news.
- TimeOut