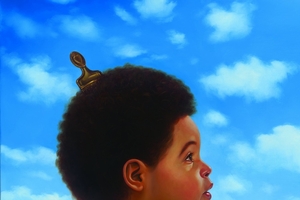 If you're looking for a Kanye West you could introduce to your mum, Drake is your man.
Like Yeezus, the Canadian hip-hop star's third album spans a breathtaking expanse of music, from low end sub bass thuds (Started From the Bottom) to Weeknd-style sex jams (Own It), stuttering trip-hop (The Language), soul-laced throwbacks (Furthest Thing) and bedroom-based R&B ballads (Too Much).
But Drake's arms are wide open - he's a far more welcoming prospect than West's chaotic arrogance, and Nothing Was the Same comes with the kind of super-tweaked production sheen only million-dollar-a-day studios can buy.
His lyrics still tend to fly all over the place, but it's his seemingly effortless timing - and his ability to switch between styles and pace at will - that really thrills.
On opener Tuscan Leather, he veers between aggressive boasts about Tom Ford and Gucci to soothing self-empowerment over switched-up Whitney Houston samples with ease.
"I am the kid with the motormouth, I am the one you should worry about," he says on The Language.
With his best album to date in the bag, it's a warning that Kanye should be taking seriously.
Stars: 4.5/5
Verdict: Hip-hop chameleon paints his masterpiece
Click here to buy Nothing was the Same by Drake.
Follow @nzherald_ent on Twitter for all the latest entertainment news.
- TimeOut