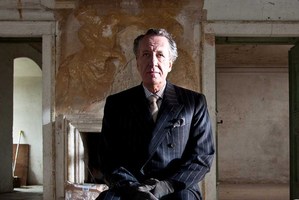 Since his hugely successful (and Oscar-winning) valentine to the movies Cinema Paradiso in 1988, Italian director Giuseppe Tornatore has struggled to make any significant international impact. This film, despite the presence of the bankable Geoffrey Rush, will do nothing to change that.
Overwrought and unconscionably overlong, it is a platform on which Rush gets to waste his considerable skill as he concocts (no other word seems apt) a memorably baroque character of ferocious silliness.
He's Virgil Oldman, an art dealer whose auctions are a front for an elaborate scam in which he undervalues and acquires masterpieces using an old mate (Sutherland) as a shill bidder. His primary targets are portraits of beautiful women, which he hangs in a secret room - one of the film's many bludgeoning pieces of symbolism.
Immaculate, aloof and pathologically punctilious, Oldman cuts a sad figure - eating alone in five-star restaurants and wearing gloves to insulate himself from the world. But his tightly wound life begins to unravel when he is asked to value, for potentially lucrative auction, the contents of an apparently abandoned villa.
The coyness of the client, Claire (Hoeks), is at first annoying and then fascinating (for him that is; for us it never rises above annoying). With inexplicable lack of caution, he begins to investigate and it gives nothing away to say that Claire is not what she seems.
Tornatore, who also wrote, litters the script with heavy-handed metaphors: he finds pieces of an old clockwork automaton that he has reconstructed (a dry, broken little man comes back to life). A savant dwarf sitting in a cafe window reciting prime numbers means God knows what: it's all too ridiculous for words.
Virgil, despite being presented as a man of extraordinary insight and cunning, never sees what's coming. We do; the trouble is that we have to wait two hours for it to arrive.
Stars: 2/5
Cast: Geoffrey Rush, Jim Sturgess, Sylvia Hoeks, Donald Sutherland
Director: Giuseppe Tornatore
Running time: 125 mins
Rating: M (violence and sex scenes).
Verdict: Irredeemably silly
Follow @nzherald_ent on Twitter for all the latest entertainment news.
- TimeOut