NZ String Quartet's bravura performance underscored with less-convincing passages and combinations.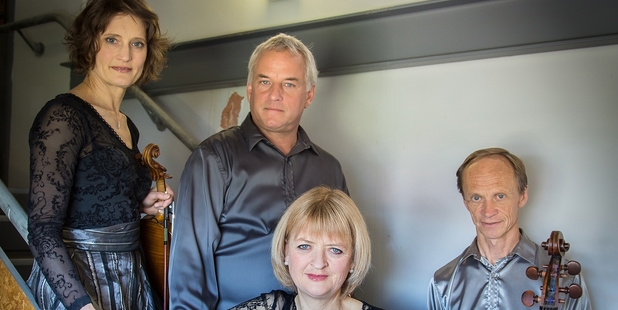 The New Zealand String Quartet struggles to sustain a loyal Auckland audience and Q Loft was sparsely populated for the second of the group's Bravo! Britten concerts on Sunday night.
Perhaps some felt cheated that the first instalment - the day before - was held at Waiheke? Others may have been disappointed that we were not given all three Britten Quartets - his marvellous Second Quartet, written in 1946, in part as a tribute to Purcell, was passed over.
Purcell himself was featured in Sunday's concert with Britten's music being presented in the context of composers who influenced him - Purcell, Schubert and Ravel.
Two Purcell Fantasias opened proceedings. Helene Pohl explained that the group was trying to emulate a plaintive viol tone, leading her colleagues in some nimble, airy playing. Fluid, roving harmonies and mordant discords made their point, and the second Fantasia benefited from some dashing ornamentation, instigated by violist Gillian Ansell.
Schubert's single-movement Quartettsatz was eloquently introduced by Ansell, with some apt quotations, yet its combination of tremolo fury and sweet tunes did not quite come off, with Pohl somewhat challenged by flying arpeggios.
Britten's Third Quartet was the highlight of the evening. It was easy to surrender to the four musicians as they countered stark belligerence with dispassionate contemplation in this stimulating 1975 score.
Ansell and Douglas Beilman, sonorously jousting, set up a first movement that seemed like a malevolent take on Bartok's night music, even when the group's prodigious energies took them into a well-sprung dance. Pohl's energised sampling of the main theme for Britten's Ostinato movement was a preview of what would be an electrifying performance, although the more freely composed textures of the following movement did not totally convince.
The group maintained momentum through the last and longest movement magnificently, justifying Britten's title of La Serenissima. There was serenity, but there were also some mysteries and questionings, ending in a dramatic skewing of its final E major chord.
After interval, Ravel's String Quartet proved to be a let-down. The players were not lacking energy, but rawness and clouded ensemble seriously undermined a work that should be the epitome of Gallic gleam and elegance.
Review
What: New Zealand String Quartet
Where: The Loft at Q