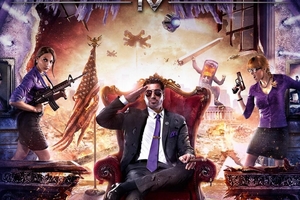 You know you're not playing a normal game when, within the first half-hour, you've saved the world from a nuclear apocalypse, cured cancer, blatantly stared at a press secretary's cleavage, and punched an alien in the face.
Did I mention you're also the President of the United States?
Welcome to Saints Row IV, an open world game that sets you up in a virtual and customisable sandbox city called Steelport, then lets you create havoc with crazed missions, violent encounters, superfast car chases, stunning weaponry and hilarious one-liners.
If only it was as much fun as all that sounds. At its heart, Saints Row IV is a Grand Theft Auto wannabe, an ultra-violent action-shooter with a bonkers story about an alien invasion that has little of GTA's depth, style or sophistication.
The fourth edition in the controversial series (it was banned in Australia because of its depiction of alien anal-probe weaponry) moves the story on five years.
You take control of Boss, the leader of the Third Street Saints gang who are now running America and who are abducted by aliens and placed in an alien matrix.
Your job is to hack in and get them back.
But it does little to improve on gripes from previous instalments: Graphics are dated and frame rates are glitchy, missions can be easy, boring and repetitive, time-filling shootouts against multiple enemies become tiresome, and there are too many cloying lines such as: "This one's for Uncle Sam."
If you can get past that, there is fun to be had. The aliens are nasty neanderthals, the weapons are as inventive as a Ratchet and Clank game (who doesn't want a dubstep gun?) and there are fantastic set pieces - such as the opening sequence where you take down a nuclear warhead to the soundtrack of Aerosmith's Don't Wanna Miss a Thing.
And you can't help but laugh at the game's sick sense of humour. At one point, after Boss has an awkward encounter with a bean counter in the White House, you're given two options: Punch a dickhead, or punch a dick in the head. Genius.
You won't remember Saints Row IV once Grand Theft Auto V is released in a couple of weeks - but it's perfect for killing time until it arrives.
Stars: 3/5
Platform: PS3
Rated: R18
Click here to buy Saints Row IV.
Follow @nzherald_ent on Twitter for all the latest entertainment news.
- TimeOut