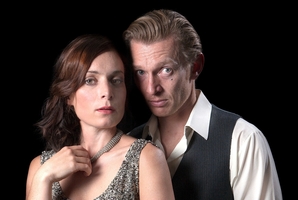 With its Swedish mix of sex, class and mind games, August Strindberg's naturalist (almost real-time) drama Miss Julie has sticking power, having inspired adaptations for 125 years. Patrick Marber's After Miss Julie transports the action to a British country house in 1945. This production, with its varied tempo and sharp dialogue, is entertaining and good value, even if it doesn't quite resonate as a refreshed classic sometimes can.
Foreshadowing topsy-turvy class disruption, The Basement's upstairs studio is set as a downstairs kitchen. Chauffeur John (Erroll Shand) is lovingly looked after by his sort-of fiancee, serene cook Christine (Dena Kennedy), but then the house's "crazy" haughty young mistress in a red dress, Miss Julie (Jodie Hillock), bursts in like a firecracker on this cosy domesticity, practically demanding a gender-reversed droit de seigneur. She's after Christine's cigarettes (say, do they stand for something?).
Julie and Christine are Team Jolie vs Team Aniston: dangerous escape vs going to church. Christine wants to dance, but she also tightens John's tie like a noose around his neck while talking of children.
Director Cameron Rhodes uses pace to great effect: we wait for John with Christine in a long, slow, wordless sequence. In contrast, Julie is staccato. At first the chemistry between John and Julie is rather too muted - but when the sparks finally fly, the action becomes prestissimo. "You're playing with fire," he warns her. "Isn't it lucky I'm insured?" she responds.
In the more intriguing second half, politeness disintegrates and power oscillates between all three - all of them fearing Julie's unseen, omnipotent "Daddy". Strindberg's "shocking" no-way-out ending is blurred, losing clarity. This is perhaps deliberate, it seems an 1888 anachronism for 1945.
The driving energy of the play remains John and Julie's sado-masochistic connection. Hillock is in fine fettle with her spitting speeches, and Shand is a supportive foil. "I could roast your heart and eat it whole," declares Julie. Blistering.
Theatre Review
What: After Miss Julie
Where: The Basement, to September 7.