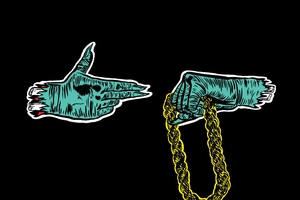 Separately, rappers El-P and Killer Mike released two of 2012's best hip-hop albums (Cancer 4 Cure and R.A.P. Music respectively). Together, they're attempting to make one of the best in 2013. And they're not far off succeeding.
Run the Jewels, released for free online earlier this month, is a scintillating proposition: two rappers at the top of their game with a unifying world view and serious rhyme skills, combined with beats that swagger like Godzilla running amok in Tokyo.
Yes, it's fired-up fight music: "We often smile at sights of violence," declares Killer Mike on the album's self-titled opener, while El-P talks of "pulling pins on grenades" on crowds during concerts.
Sure, they're inviting comparisons to Watch the Throne, Jay-Z and Kanye West's fun but weighty joint project. But Run the Jewels is thrillingly seamless - listen to the ease with which they trade verses with Big Boi on the relentless thud of Banana Clipper, or the way they swap super-fast rhymes over the bruising horns of Get It.
It sounds less like the debut of a duo that only just joined forces and more like rap vets who have been doing this for decades.
With a quality debut like this, let's hope that's exactly what Run the Jewels end up doing.
Stars: 4.5/5
Verdict: Rap duo join forces for killer combo.
Download: Here
Follow @nzherald_ent on Twitter for all the latest entertainment news.
- TimeOut