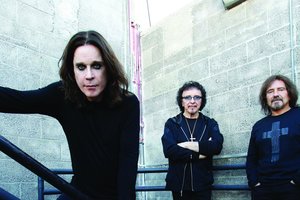 You know it's Sabbath, that's for sure. Ozzy may have lost a few marbles over the years, but he's never lost that bloodcurdling, nightmarish voice. No one plays tough, scything riffs laced with a dose of heavy blues like Tony Iommi. And somehow Geezer Butler conjures up the perfect marriage of poise and pounding on his bass.
Also, Sabbath still have pulling power after 45 years in heavy metal, especially the current, near-classic line-up of Ozzy, Iommi and Butler (drummer Bill Ward opted out and Rage Against the Machine's Brad Wilk fills in on 13), who played two nights at Vector Arena in April.
And this new album, the first with the classic line-up since 1978's Never Say Die!, could even nudge its way into the top five best Sabbath records.
Though that's a tough call because after Paranoid, Master of Reality and Vol. 4 - the classic three in a row run from 1970-72 - there are now, counting 13, at least five albums for just two spots. But 13 is worthy because it's that good.
Eight-minute opener End of the Beginning is all over the place, in a good way. It sets off with a lurching heaviness, giving way to creepy tranquillity, then building into a sprawling barrage of bluesy grooves and wails, and ending in almost classic rock style as Ozzy serenades rather than scares.
Then there's first "single", the nine-minute long God is Dead?, a multi-part opus that in the last two minutes comes out swinging like a modern version of Fairies Wear Boots which makes it the highlight of the album.
That song also features the line "out of the gloom I rise up from my tomb into impending doom", so yes, the band are still mining the cheery old end-of-the-world-as-we-know-it scenario, which is what you want from Sabbath. And there are other recurring motifs like full moons, not being able to sleep at night, and the life and death wisdom of Ozzy, who along with Butler co-wrote the lyrics, in lines like, "I don't want to live forever, but I don't want to die". You may chuckle, but if you think about it, it sums up the human condition pretty well.
Other key moments on the album include Zeitgeist, a folkie mid-album space waltz, Loner which is proof of the influence Sabbath have had on everyone from stoner rock bands like Monster Magnet and Kyuss to mainstream monsters Metallica and Foo Fighters, and last track Dear Father, a towering, thudding anthem countered by outbreaks of soaring melodic highs (akin to Mastodon) and galloping blues.
So though it's no Paranoid, 13 is solid and very much Sabbath Bloody Sabbath.
Stars: 4/5
Verdict: Best album since, well, the mid-70s
- TimeOut