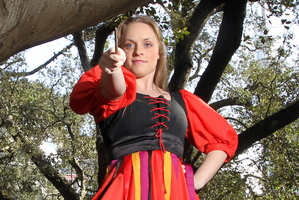 Getting an asterisk or two in the title is becoming de rigueur for young playwrights but F*ck Love actually supplies little in the way of unprintable obscenities.
The morals are loose and the dialogue is peppered with an occasional expletive but what's on offer is a slice-of-life drama that gives an engaging glimpse into the inner-world of three 20-something women desperately seeking romance while learning to make do with the disappointments of casual hook-ups.
Playwright Sarah Graham shows a pitch-perfect ear for naturalistic dialogue as three young flatmates ply each other with empathy, advice and affirmation.
Opening with a wildly poetic invitation to throw yourself into dating with reckless abandon ("date like Labour was in government") the play captures the irrepressible optimism that drives seemingly sensible women to keep playing the relationship game in the forlorn hope they will strike the jackpot.
With razor-sharp humour and a finely honed cynicism, the play avoids any possibility of a neat resolution. A few stabs at feminism are heavily laced with irony and the life-shattering emotions of a break-up are nicely undercut by abrupt switches to flippant small talk.
The three highly accomplished actors inhabit their parts so thoroughly it is easy to believe they are talking about their own lives. Jacqui Nauman brings sassy exuberance to her portrait of a party girl; Ema Barton is more world-weary and occasionally embittered, while Anoushka Klaus shows hints of maternal wisdom but reveals herself to be the most deeply deluded about her own relationship.
The 60-minute running time races past and the show's infectious commitment to having fun is summed up in a riotously enthusiastic karaoke routine set to Shania Twain's Man! I Feel Like a Woman!
Review
What: F*ck Love
Where: The Basement, to June 22.