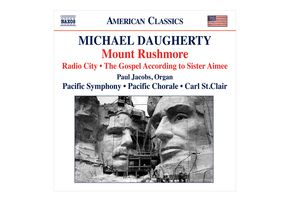 This new Naxos collection of his music may come across like a 78-minute celebration of the Fourth of July. Michael Daugherty made his name through shock tactics.
His 1997 opera, Jackie O, based on Jacqueline Onassis, was laced with lounge music and littered with celebrity characters.
Instrumental works often had nose-thumbing titles like Dead Elvis and Motown Metal.
This new Naxos collection of his music may come across like a 78-minute celebration of the Fourth of July.
The title work, Mount Rushmore, is proudly sung and played by its commissioners, the Pacific Symphony and Chorale under Carl St Clair.
This 32-minute cantata tributes the presidents immortalised on the South Dakota monument.
Daugherty stirs up some lively razzamatazz in his salute to George Washington.
A lusty rip through an 18th century William Billings hymn morphs into a demure Yankee Doodle Dandy.
The pick'n'mix style may convince you that Charles Ives is alive and well and holding a professorship at the University of Michigan.
Lincoln's Gettysburg Address is rendered with a lush tunefulness that would not have startled the Anita Kerr Singers in their heyday.
A more complex mix for Thomas Jefferson mates a lyrical Italian song, originally written for this president, with a shouted Declaration of Independence that sounds as if John Adams is channelling Carl Orff.
Mount Rushmore is immense fun, but perhaps a little too American for a life outside the US of A.
Indeed, one wonders whether an enterprising Kiwi composer could fashion a similar paean to some of our past leaders.
The rest of Daugherty's disc is instrumental, although both works have some trouble living up to their titles.
Radio City has the defining, extended title of Symphonic Fantasy on Arturo Toscanini and the NBC Symphony Orchestra.
Arrant nostalgia puts Vivaldi alongside Verdi, with a slow movement that is pure Respighi garnished with modish percussion.
The Gospel according to Sister Aimee, for organ, brass and percussion, opens with a first movement perilously close to a 7'25" fanfare while sentimentality and brassy rhetoric skew the finale.
In between, a brilliant toccata from organist Paul Jacobs misses the vitriolic irony of the Upton Sinclair poem quoted in the liner notes. Perhaps the Pacific Chorale should have joined in.

Classic CD: Michael Daugherty: Mount Rushmore (Naxos)
Verdict: "Once the razzamatazz is over, Daugherty's music does not always live up to its titles."