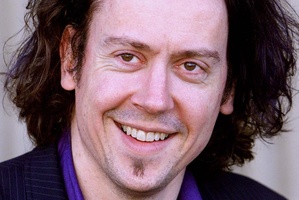 Every two years, Auckland Philharmonia Orchestra presents a concert of half-a-dozen workshopped compositions in a specific genre. This year, enlisting six organists and capitalising on the town hall's splendid instrument, it was an aptly-titled Organ Spectacular.
The evening was longish at one hour 40 minutes without interval, but Lee Martelli and Kerry Stevens were personable presenters, undertaking on-stage interviews; they also tickled our aural fancy by playing some slick a cappella samplings for an upcoming Robbie Ellis score.
First up, David Hamilton's Chimera showed the craft that comes with three decades of orchestral experience. Familiar ingredients ranged from the tingle of decorative dissonance to flourishes and rhythms that, in a theatre, would make one impatient for the curtain to rise.
Hamish McKeich's skilful baton ensured that John Wells' clever organ part wove through curlicues of woodwind and percussion in what was a zesty overture.
Anthony Young's 13: Theme and Variations for Organ and Orchestra wrought wonders from Rachael Griffiths-Hughes' four bars of organ. Each section portrayed a diner at the Last Supper, with a chorale and a touch of jazz for St Bartholomew and sinister smudged chords for Judas Iscariot. Robbie Ellis' Relish in Immature Bombast was a hoot, a mash 'n' mix trip through various popular musics, with witty style-shifts.
Jono Sawyer's furious drum kit vied with Timothy Noon's organ for star status, even if their later role swapping, with Sawyer playing Take me out to the ball game on the organ, didn't quite come off.
Ryan Youens' Tiraki, inspired by images of clearing clouds, was less successful.
Nicholas Forbes' organ part was undeveloped in a piece that needed more ingenuity in its rhythmic structures.
Indra Hughes took command of the rhapsodic organ part in Ben Hoadley's Huia, a meteorological diary of a day out west. Orchestrally, however, one waited in vain for strings to deliver the shamelessly sumptuous climax that seemed to be promised.
In Mahuika, Nicholas Sutcliffe emerged from mysterious orchestral murmurings and eventually took his colleagues into a sonic inferno befitting the fire goddess of Chris Adams' title.