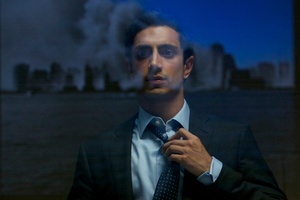 Anyone who enjoyed Mohsin Hamid's finely wrought 2007 novel on which this film is based would have misgivings about an adaptation. In a sustained Joseph Conrad-style monologue delivered to an unidentified listener, the book told the story of a young Pakistani man watching his American Dream curdle in the months after 9/11. But it was distinguished by many artful ambiguities that persist to the last electrifying sentence.
Predictably enough, such stylistic subtleties are airbrushed out of the screen version and the changes are dramatic, particularly to the character of Erica (Hudson). But New York-based Indian director Nair (Mississippi Masala; Monsoon Wedding) still manages to pack plenty of food for thought into a film whose producers plainly wanted the thriller potential exploited.
The result is a very watchable, if overlong, drama that is let down by a glibly upbeat ending that smacks of a desire to reassure audiences, rather than challenge them.
The character of the title is Changez Khan (Ahmed), who has returned to his native Lahore after several years in New York. The novel's anonymous American listener has become Lincoln (Schreiber), a Lahore-based American journalist who thinks Changez might have a lead on the violent abduction of an American academic.
There's an echo of A Thousand and One Nights' Scheherazade here and a pungency to the idea that for the American to get what he wants he must, for the first time, really listen to the Muslim. And it provides the basis for Khan to recall his rise and fall: dazzling results at an Ivy League school lead to a job as "a soldier in your economic army" at a top firm of Wall St analysts, in which he values companies for asset stripping. Simultaneously he falls in love with Erica (Hudson), a SoHo artist haunted by the loss of her last man, and their affair becomes a none-too-subtle metaphor for the relationship between the two countries.
What starts out as a framing device thus becomes a narrative of its own, eventually supplanting the main plot. But even the last 20 minutes of humdrum thriller can't detract from the thought-provoking nature of Khan's story.
Ahmed, a noted London rapper who has starred in a black comedy (Four Lions) and gritty docudrama (The Road to Guantanamo) about the war on terror, is the best of the characters. (Lincoln, Erica and Changez's macho boss (Sutherland) are little more than crude stereotypes).
But if the film encourages some Americans to look at their country through others' eyes, it will be worthwhile.
Stars: 3.5/5
Cast: Riz Ahmed, Liev Schreiber, Kate Hudson, Kiefer Sutherland
Director: Mira Nair
Running time: 130 mins
Rating: M (violence, offensive language, sex scenes) In English and Urdu with English subtitles
Verdict: Food for thought
- TimeOut