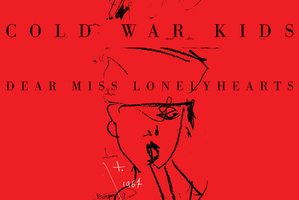 Hot. Cold. And lukewarm.
That's been the career trajectory so far for California's Cold War Kids, who released a classic debut, followed it up with an experimental mess, then tried to mimic Kings of Leon with dreary results on 2011's forgettable Mine Is Yours.
Now, they're starting to heat up again. Dear Miss Lonelyhearts isn't just a return to form, it's payback for fans who have been dedicated since 2006's near-classic, Robbers & Cowards.
Thankfully, Cold War Kids are back doing what they do best: Crafting piano-tinged, blues-rock rackets for frontman Nathan Willet to holler, wail, rant and soar over.
"I was supposed to do great things," Willet sings like a mission statement on Miracle Mile, sounding like a man possessed.
He's right: there's more heart and soul in each song here than on the entirety of Mine is Yours, with warped ballad Water & Power and the electro shimmering of Bottled Affection coming with choruses that will send shivers down your spine.
Best of all is Lost That Easy, a stunner that might be Cold War Kids' best moment yet.
Yes, they've missed their moment in the sun, but these kids still have a secret or two worth sharing.
Stars: 4/5
Verdict: Long-held promise finally fulfilled.
Click here to buy Dear Miss Lonelyhearts.
- TimeOut