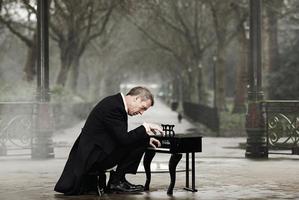 Album cover for Didn't It Rain by Hugh Laurie. Photo / Supplied
Great band? Check. Talented guests? Check. Authentic arrangements? Check. Hugh Laurie's second album of blues standards is a good ol' box ticker, and continues to demonstrate that he's more than a hobbyist when it comes to tastefully honky tonking around on the piano and delivering a southern croon. But it's missing a little spark, a little desperation. On his first release, Let Them Talk, he managed to capture the sound of New Orleans with surprising conviction. Laurie's well aware of the authenticity issue - a white, well-off, Englishman taking on the blues of America's deep south will always raise eyebrows, but his heart's definitely in it, and he does have some nice moments here. The Copper Bottom Band kick things off nicely with The St. Louis Blues, and Wild Honey turns out to be a surprisingly rollicking version. Guest vocalists Gaby Moreno and Jean McClain do a rousing job with the title track, and Laurie's star turn on slow-burning Careless Love is tender and true. But there are a few tracks here that are a bit too polite to be remarkable, and Laurie's heavy accent occasionally gets in the way.
Stars: 3/5
Click here to buy Didn't It Rain by Hugh Laurie.
- TimeOut