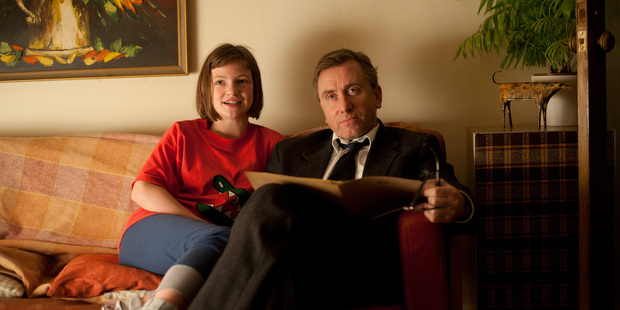 Powerful acting from a top-rate cast, including an artlessly charming newcomer, and a steady and confident directorial hand elevate what might have been a run-of-the-mill piece of British suburban miserabilism into something quite special.
Director Norris, a veteran of theatre in the West End and on Broadway, helms a gripping adaptation of Daniel Clay's well-regarded 2008 novel.
Its focus was a single character, Rick - his nickname was Broken Buckley - a sweet but backward 19-year-old living with his parents in a North London cul-de-sac. But, in the screen version, by Irish playwright Mark O'Rowe, Rick is a lesser character than an 11-year-old girl called Skunk (Laurence).
The shift of focus pays due credit to To Kill a Mockingbird, which Clay has named as an inspiration. It also lays a heavy load on young shoulders, but Laurence bears it effortlessly.
Skunk lives with her brother, her solicitor solo father (Roth) and a live-in au pair, Kasia (Marjanovic), across the street from Rick.
She's just starting to learn about boys (an innocent first love is the subject of a touching subplot) and devoted to her dad - their scenes together are among the film's most affecting.
The character who drives the drama, though, is Oswald (Kinnear), a volcanically angry solo father of three daughters who, in front of Skunk, violently attacks Rick on the basis of an unsubstantiated (and later discredited) complaint by one of the girls that he had raped her.
In that densely packed opening few minutes - full of headspinning action - Norris shows a theatre veteran's skill for moving people through the frame of view and evoking so much more than is actually shown. We feel like we've known these people for years.
The developing drama includes Kasia's boyfriend (Murphy), who is also Skunk's teacher, and the deftness with which the script interlocks all these small stories into a larger one bespeaks the care that has gone into the writing process.
The film had a lukewarm critical reception in the UK, where many reviewers - mistakenly in my view - tried to lump it in with the social realism of Ken Loach or the grim urban dramas of Lynne Ramsay or Andrea Arnold. But Norris' film is in a different league, using a poetic, even impressionistic style that captures perfectly the child's-eye view it seeks to adopt.
The acting is pretty much beyond praise, but special mention should go to Kinnear, a star (Hamlet, The Last of the Haussmans) of the NT Live series, for the way he humanises the villain of the piece. It's an exceptional piece of work from a great actor in a very worthwhile film.


Stars: 4/5
Cast: Tim Roth, Rory Kinnear, Cillian Murphy, Eloise Laurence, Zana Marjanovic
Director: Rufus Norris
Running time: 87 mins
Rating: R16 (violence, offensive language, sex scenes and content that may disturb)
Verdict: A standout British drama
- TimeOut