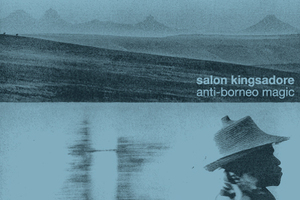 Last year, the Auckland Observatory was the perfect venue for Salon Kingsadore. As planets shifted and an astral journey past the rings of Saturn played out on the Stardome above, the group improvised fluid space-jazz rock propelled by the mercurial guitar of Gianmarco Liguori and inventive keyboards of Murray McNabb, who here again helm "instant compositions" (with bassist Hayden Sinclair and drummer Steven Tait).
Across two CDs with inscrutable song titles (Accidental Purist, The Tentacled Manservant, Under Buried Masks and Radio Priestess), the four-piece tickle out gravity-defying musical ideas between ambient space-rock (the 12-minute centrepiece on disc two) and tripped-out fusion jazz (24-minute Bronx Ballet, the funky Idiomatic Transubstance). For ad agencies or anyone wanting soundtrack material, a third disc offers 24 edits of varying lengths from 11 of the 17 tracks. Best title to get a grip on this slippery and enigmatic amalgam is Transelemental Transmission, which gives some clue to the seductive, lightly-delic contents. And this is on a label that specialises in "the psychological and physiological applications of music".
For optimum results apply regularly while horizontal.
Stars: 4.5/5
Verdict: Set the controls for the bright side of the moon
Catch them on Sunday at Auckland's Golden Dawn.
- TimeOut / elsewhere.co.nz