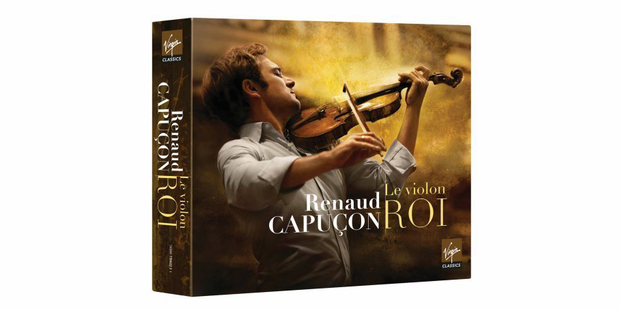 Bruch & Dvorak: Violin Concertos (Decca) - 5 stars
Renaud Capucon: The Violin King (Virgin Classics) - 4 stars

Julia Fischer's new CD with the Tonhalle-Orchester Zurich under David Zinman is a clever concerto combo that will hopefully bring the lesser-known Dvorak to listeners initially drawn to the more popular Bruch.
Which is not to say that Bruch's G minor Concerto doesn't receive its dues and more.
This work has always had its detractors; for George Bernard Shaw in 1887 it was "hopelessly third-class".
Fischer gives it a generous upgrade from third to first-class, right from the heart-stopping flourish that sets it off. The German violinist's lyrical caressing of the shapely Adagio reminds one that this is the most potently Jewish violin concerto since Mendelssohn.
Throughout, Zinman's care with orchestral detail, immaculately caught by the Decca engineers, reveals niceties of colour and texture not always apparent to the unwary ear.
Dvorak's 1879 Concerto is a gentle, unassuming score from a man I suspect would often rather be trainspotting and pottering around the Bohemian countryside than putting pen to manuscript. Fischer's utter naturalness wins the day. She bursts out in glorious, unending song in the work's slow movement and, for the particularly frisky Finale, captivates us with an elfin lightness.
Renaud Capucon has recorded many CDs that rank with the best - last year's Brahms and Berg Concertos with the Vienna Philharmonic under Daniel Harding being a case in point.
The French violinist's latest, The Violin King, complete with Disney-nudging title, is a sometimes infuriating sampler, with its three discs chopped into concertos, chamber music and encores.
However fascinating it is to compare six orchestras and five conductors on the one disc, isolated concerto movements are unsatisfactory. Two Brahms finales need to erupt from what has preceded them.
Only slow movements maintain a certain integrity. Perhaps two by Schumann and Korngold, and one from Beethoven's Triple Concerto with Martha Argerich and Mischa Maisky, may at least provoke some to search out complete recordings.
Although the chamber music discs suffer from the same problem, the encores of the last set are the tastiest after-dinner treats, from Kreisler with just the right gemutlichkeit to the delightful two-minute tang of Hora staccato.

Verdict: A feast of fiddling - but more well-rounded meals are needed.