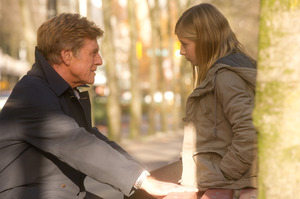 When will Robert Redford accept that he isn't ageless? He looked silly enough at 62 as a romantic lead opposite 38-year-old Kristin Scott Thomas in The Horse Whisperer. Here, at 76, playing a former member of the Weather Underground, he looks flat-out ridiculous.
He was 36 - far too old for radical chic - when that leftie protest group dedicated to the violent overthrow of the US Government was formed in 1969. On screen here he looks like Methuselah with a hangover and the fact that he is the widowed father of a 7-year-old daughter makes matters worse.
Perhaps the decision was budgetary; Redford the producer wouldn't have had to pay a fee to Redford the actor (or to Redford the director for that matter) from the indie film's US$1 million budget. But it's a fatal flaw in the whole set-up.
And not the only one. Like his last two films, The Conspirator and Lions for Lambs, this is a well-intentioned drama to which Redford has attracted a cast of top names.
But it's clunky and schematic in the way it deals with its weighty moral themes: can dissent legitimise violence? Does political purity trump personal loyalty? What are the obligations of journalism?
Redford plays liberal small-town lawyer Nick Sloan who comes to the attention of reporter (LaBeouf) when he refuses to take the case of a former Weather Underground member, Sharon Solarz (Sarandon), who is arrested 40 years after the killing of a guard in a Weather Underground bank raid.
In short order, the reporter finds the lawyer is actually Jim Grant, Solarz's one-time brother-in-arms; Jim's gone on the run; and all sorts of people who had hoped to remain in hiding emerge blinking fearfully into the light.
It could have made a good thriller with a zingy subtext about the nature of terrorism if Redford and writer Lem Dobbs, who scripted the wonderful The Limey, hadn't been so sober-sided and solemn. Certainly, the chase story has some pizzazz about it and Nick Nolte, as an old mate, looks and sounds like a relic of the 60s' worst excesses to the extent that I thought he'd wondered in off the set of a zombie movie.
But, in the end, it's like a social studies class. It settles for a sentimental solution to unsentimental problems and it's hard not to conclude that it's a muddle-headed (if not empty-headed) piece of misplaced romantic nostalgia.
Stars: 2.5/5
Cast: Robert Redford, Shia LaBeouf, Julie Christie, Susan Sarandon, Nick Nolte, Chris Cooper, Stanley Tucci, Brendan Gleeson, Richard Jenkins
Director: Robert Redford
Running time: 125 mins
Rating: M (offensive language)
Verdict: Ponderous but well-intentioned thriller
- TimeOut