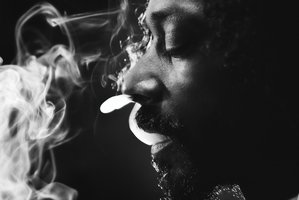 By now you should know the story: Gangsta rapper has enough of hip-hop, heads to Jamaica, converts to Rastafarianism and is "reborn" as a reggae singer. The problem with Reincarnated - Snoop Dogg's 12th studio album but the first under his new moniker, Snoop Lion, isn't with his ambition. Twenty-odd years as one of the world's most successful hip-hop stars has to get boring at some stage. And there are no issues with the album's production - Major Lazer's dubby, bass-driven blueprints give Reincarnated as a slick, summery vibe perfect for beaches and barbecues. He even has the songs: the horn stabs of Lighters Up and Boulevard's rugged Jamaican holler sound like the real deal, and with Miley Cyrus' awkward appearance on Ashtrays and Heartbreaks, it might be the first Snoop album your teenage daughter can listen to. But there's an authenticity problem here: Snoop's been rapping about drugs, violence and crime for nearly 20 years and his hazy, weed-infused flow is so iconic, it's hard to take him seriously when he croons "Me don't want to see no more innocent blood shed" on anti-violence anthem No Guns Allowed. Snoop's heart might be in the right place, but one album can't replace 20 years of bad behaviour.
Stars: 2/5
Verdict: Rapper's reggae rebirth raises eyebrows
Click here to buy Reincarnated by Snoop Lion.
- TimeOut