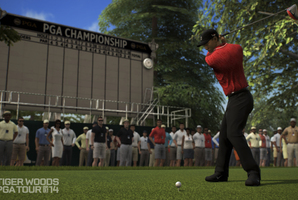 If you've played an Electronic Arts golf game before, you'll know the drill: lots of features, lots of tweaks, and lots of that absurdly quaint pomposity that golf culture revels in. Royal this, top-tier that. This year Tiger Woods PGA Tour is taking a nostalgic bent with its, er, featured quest: a series of legendary whackers stand in Tiger's way in what amounts to a golf-based version of Bruce Lee's film, Game of Death. The game bends the concept of unreal head-to-head challenges to the sport rather than in the opposite direction, like Shaq Fu and Michael Jordan's Chaos in the Windy City - two starring exhibits in the EA hall of infamy.
Most of the games I've reviewed in the past eight months or so have centred on a theme of saving a nation, planet, galaxy, or universe. Curiously, this game is better than most of them at persuading you that your mission's really quite important. Put a ball in a hole and the world is yours, young warrior.
Actually, it's probably not too late to reinvent Happy Gilmore as an action RPG or first-person brawler and make it work. Come on, developers, please make it so.
If conquering legends isn't your style, the career and quick-play modes will cater to your contemporary golfing needs.
This edition is a new awakening for me, because it's the first time I've stepped into the man's very expensive shoes since taking up the sport myself. I suspect that the game might be "better with Kinect" but fate saw fit to drop a refrigerator on me - I kid you not - so I have had to fore(!)go the enhanced motion-sensing input and use my controller. For the first time, I feel qualified to assess a golf game's true accuracy.
The highest tribute I can pay Tiger's game is this: On a real golf course, I am a dangerously untalented club flinger whose patience evaporates the moment the ball starts to veer away from the nice grass and over towards the rough, the trees, or the other golfers running for their lives. My skills are faithfully recreated in Mr Woods' virtual world and that is a credit to the developers at EA Tiburon. I know when my swing is going to embarrass me in the real world, and I can recognise quickly when it's going to ruin my night on the couch, even though I'm using a thumbstick.
I also know, much like real golf, I'll be obsessing over my score and how to get better long after I've put my equipment away and returned to real life. I'm sitting here now, writing this review when all I can think about is smashing that little white ball, daydreaming of the perfect long drive. Well played, EA. You deserve a golf clap.
Stars: 4/5
Platforms: Xbox 360, PlayStation 3
Rated: G
- TimeOut