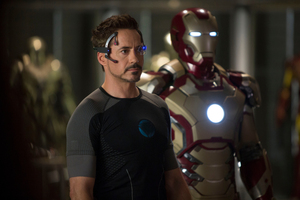 More than living up to the promise of The Avengers and putting the flat Iron Man II to shame, the latest superhero blockbuster from Marvel Studios is a triumph in almost every regard.
We rejoin billionaire industrialist Tony Stark (Robert Downey jnr) after the events of The Avengers, which he is still struggling with internally. When an act of terrorism perpetrated by an emerging figure known as The Mandarin (Ben Kingsley) lands Stark's right-hand man Happy (Jon Favreau, Iron Man director) in hospital fighting for his life, Stark vows revenge. But he underestimates the power of The Mandarin and soon finds himself fending for himself without the help of his super-powered weapon suits.
The film-makers said ahead of time that they wanted to explore Stark's character separate from Iron Man - a view the action-hungry fanboys may not have welcomed. But the character stuff here really works, elevating the film above its peers and giving Downey something to sink his teeth into. A sojourn in a small town which pairs Stark with a plucky kid could have been a schmaltzy distraction, but it's some of the best stuff in the movie.
Director/co-writer Shane Black (who set Downey on the road to career recovery with the underrated 2005 film Kiss Kiss Bang Bang) displays an eye-poppingly confident grasp of epic action mechanics, and once again shows how much of a knack Marvel has for choosing directors. The script evokes some of Black's best work as a writer (Lethal Weapon; The Long Kiss Goodnight) with its quip-heavy dialogue and self-aware machismo. Kingsley is an absolute hoot as the mysterious Mandarin, and Guy Pearce gives good villainy as a rival scientist. You couldn't ask for more in a superhero movie.


Stars: 5/5
Cast: Robert Downey jnr, Gywneth Paltrow, Don Cheadle, Guy Pearce, Ben Kingsley
Director: Shane Black
Rating: M
Running time: 130 mins


Iron Man III is in cinemas now.