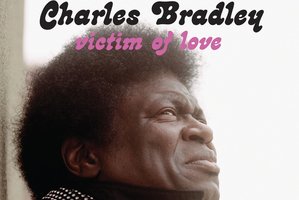 Charles Bradley is one of those artists who makes you question what it means to be authentic. A man who lived a life of poverty in Brooklyn, growing up on the streets, losing his brother to murder, Bradley worked part-time as a James Brown impersonator. Despite the hardship, his love of music held fast and, at the age of 62, he released his debut album No Time For Dreaming, having been discovered by Gabe Roth, head of Daptone Records, who was convinced Bradley was much more than an impersonator.
Two years later, and two albums in, Bradley has convinced many others, too. For though his albums could've been made in the late 60s, he's no imitator - and his songs are just as resonant, and authentic now as they would have been 40 years back. His latest release, Victim Of Love, has a more upbeat narrative than his first, less tragic and more hopeful. There's still plenty of heartache and soul in Bradley's distinctive, cathartic scream, but when he sings "my life was cold, you put the flame on it", he sounds elated.
Mention must go to the Menahan Street Band, who provide the effervescent, shimmering music for Bradley to soar over, and bandleader Thomas Brenneck, who is also producer and co-writer. They're as edgily funky on Where Do We Go From Here, as they are swooningly romantic on Let Love Stand A Chance.
Stars: 4/5
- TimeOut