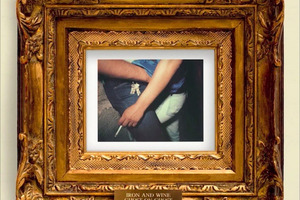 When Sam Beam released his first album The Creek Drank The Cradle in 2002, he established himself as a man who wrote about heartbreak with an honest, eerie melancholy, his gentle guitar reflecting his Southern rootsy inspirations. With his fifth album, Ghost on Ghost he's thrown off his indie mantle, coming up with an album full of beautiful, soulful pop songs - like the radio hits of the 60s and 70s, only more tinged with Americana and jazz, and full of slightly unexpected arrangements.
Created with a large bunch of excellent contributing musicians, it's an album with the lush, lovely atmosphere of a tender, orchestrated, pop classic. The 12 tracks vaguely revolve around notions of coupledom, and blend gothic Americana with funk and soul, hip swinging basslines, frisky percussion, soft, round vocal harmonies, and evocative horns.
Low Light Buddy of Mine is a highlight, its deep foreboding groove tempered by a sweetly husky vocal performance.
There's an effortless light and summery feel on Grace for Saints and Ramblers, and memories tinged with romance on jazz-influenced ballad Grass Widows. The occasional track floats along without making an impact, and those looking for a sign of Beam's trademark anxiety might be surprised to find an assured, almost celebratory album that confirms him as a modern Van Morrison type.
Stars: 4/5
Verdict: Gracefully crafted album of easy Americana pop songs
Buy Iron and Wine's Ghost on Ghost here.
- TimeOut