Programme on teenagers fighting flab overcomes clutter of cliches to succeed and Maori TV offers hope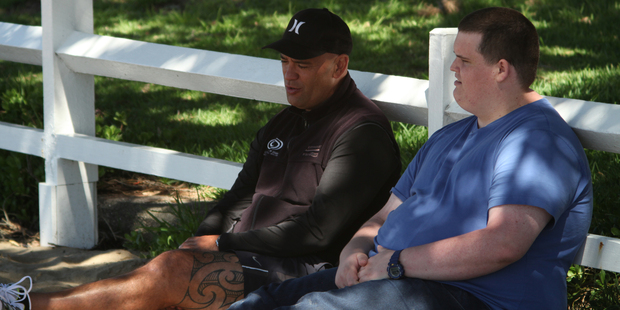 Exercise and health specialist Dr Ihi Heke is a stern taskmaster on Saving Gen Y.
Hard as it might be to believe, there are occasional sightings of television programmes with good intent in their hearts. I found a couple of local ones, though the first had a title that might make you dive for your remote.
It's called Saving Gen Y (8pm, Saturdays, TV3), though it's not really about the so-called Generation Y at all, but rather about some members of that generation and their struggles with a specific lifestyle issue.
Yes, it's another fat show, this one concerned with eight oversized kids from the late teen demographic and their TV-friendly battle to save themselves from their junk-food-loving ways.
Of course the show has a stern taskmaster, exercise and health specialist Dr Ihi Heke, who slips in another TV cliche by sending each of the kids off to do cold turkey with a health-mad host family.
Kieren - 19 and 144kg - makes herself a last black pudding and egg sandwich before being put into the slim white hands of a salad-loving yuppie couple.
One poor kid is sent to stay with a runner and another gets a pair of fearsome old chook-raising hippies for caregivers.
But despite the massed cliches, Saving Gen Y has a winning sort of charm, thanks mainly to the talent and their sweet honesty about being big and wanting to do something about it - though some more than others.
"I feel ugly," said Tracey (19 and 150kg). "When I'm eating I feel happy." Or, as Kieren - who dropped out later - put it, "I'm not really addicted to food, but I do like eating."
My second local show of good intent, though, made Saving Gen Y look a little like mere candyfloss. Restoring Hope, on Maori TV on Sunday night, was a shock - almost more than I could handle.
But I guess I'm out of the habit of being grabbed and moved and swept up by a local documentary, that sort of thing being a bit of an endangered species these days.
Restoring Hope stepped right inside the Maori restorative justice system following Mike Hinton from the Manukau Urban Maori Authority as he set up meetings between victims and offenders in and out of Auckland.
This was eye-opening, emotive and convincing stuff, the sort of thing that could have even a cold-eyed critic in tears by the first ad break after a heart-rending encounter between a grieving family and the man who had run over and killed their 3-year-old boy. The documentary mostly was a witness to Hinton - big heart, big tatts - and his extraordinary work, moving quietly from case to case, room full of tears to room full of tears.
In another case, two nephews had beaten up their uncle and in another of the apparently numerous family disputes handled, a (very) violent offender eloquently confessed to his (very) angry whanau that it took "a f***ing f***wit like me to f*** it all up" and seemed to swing them.
A remarkable documentary - helped, of course, by remarkable access and a quiet neutrality.
Restoring Hope could also restore your hope in television.