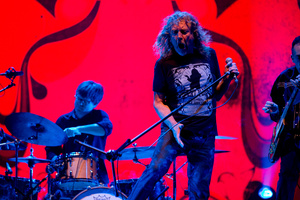 Of the many rock'n'roll hall-of-famers to hit town in recent weeks, Robert Plant was always going to be the most intriguing.
After all, the"voice of Led Zeppelin", as he was heavily billed, has of late hit quite a purple patch with his adventurous solo albums, including his Americana-tinged set with bluegrass star Alison Krauss, Raising Sand, which proved his most successful release since his days as the Golden God at the front of his pioneering band.
And intrigue he did in a show which deftly side-stepped the long shadow of his Led Zep past but also rebooted it with thrilling results.
Of the 14 songs delivered, nine were Zeppelin numbers, the balance from his solo output (none from Raising Sand) and vintage blues tunes which had turned his head as a youngster - like Howlin' Wolf/ Willie Dixon's Spoonful and Bukka White's Fixin' to Die, the latter of which came delivered in more of a trademark Led Zep style than the band songs on either side of them.
Elsewhere, Plant and his guitar-powered band restructured Led Zep songs with unpredictable dynamics and arrangements, throwing in everything from swirling synthesizers to the traditional instruments played by Gambian musician Juldeh Camara, who helped drag many of those blues-derived riffs back to the sub-Sahara.
That might have come across as a grand indulgence, or for a WOMAD rather than in a pricey arena show (and one where venue security were so heavy-handed with punters who wanted to dance at the front, it drew comment from Plant).
But no, with Plant in good humour between the songs and great voice within them, this should have satisfied diehard Led Zep fans just wanting a blast from the past. After all, they were much more than a hard rock band, and Plant's old band's pastoral folk side was well represented with the likes of Going to California and Bron Y Aur Stomp, which did just that.
Openers veteran soul-gospel group the Blind Boys of Alabama warmed up with a well-received set of familiar tunes (including their Tom Waits-penned theme song to The Wire) and showmanship, with 82-year-old lead singer Jimmy Carter taking a guided tour of the arena floor during the last song.
A mere whipper-snapper by comparison, the 64-year-old Plant came on stage, a towering Gandalf-like among his backers, and cast a spell that lasted from opening song Friends all the way to the closing juggernaut rethink of Rock and Roll.
Who: Robert Plant and Sensational Space Shifters, The Blind Boys of Alabama
Where: Vector Arena.
When: Thursday, April 11