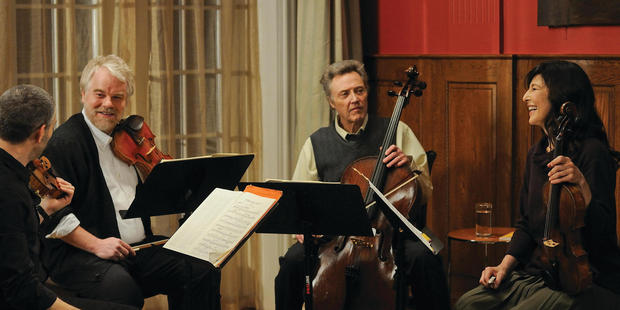 The consistent sellouts of concerts by the APO and the NZSO attest to the large local constituency of classical music lovers, who should be drawn to this magnificently acted drama. But there is much to appeal to those who have yet to be inducted into the sublime beauties of Beethoven's String Quartet No 14 in C sharp minor Op. 131.
That striking seven-movement piece - one of the composer's favourites - was composed in the last year of his life and its autumnal tone makes it ideally suited to a film that is, in essence, a requiem.
A Late Quartet, its title in Northern- Hemisphere markets, is much apter than Performance, since so little of the film takes place on the concert platform. The performers are members of a revered quartet called Fugue, who are marking their 25th anniversary: the passionate Robert and Juliette Gelbart (Hoffman and Keener), long-married; austere perfectionist Daniel Lerner (Ivanir); and the doyen of the group, cellist Peter Mitchell (Walken, cast against type as the ensemble's calmest and wisest head).
Mitchell's discovery in the film's early scenes that a degenerative disease will soon force his retirement sets the cat among the pigeons: long-suppressed resentments and ambitions begin to seep and then spill and the musicians' families (professional and actual) are inevitably affected.
With a tone that veers, sometimes in a single scene, between soap opera and dramatic documentary, the film sometimes feels like an uncertain copy of mid-career Woody Allen: some of the lines veer close to banal and the laughs it delivers are unintended, I suspect.
Certainly it gives an enlightening portrait of the refined, even ritualised traditions of elite musicians (they source their own horsehair for bows) and takes us deep into their intense, introverted world and the exactitude of their creative process. It's also ravishingly lit and shot, and the dream cast is at the top of its game.
Aficionados may find fault with the miming of the playing (it's the Brentano String Quartet on the soundtrack) but I thought it impressive. Certainly it's a powerful evocation of a specific world and a classy piece of work.
Stars: 4/5
Cast: Philip Seymour Hoffman, Christopher Walken, Catherine Keener, Mark Ivanir, Imogen Poots
Director: Yaron Zilberman
Running time: 106 mins
Rating: M (sex scenes, offensive language)
Verdict: Sometimes silly, mostly sublime
- TimeOut