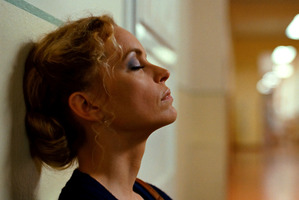 The films of German director Petzold, a leading light of recent German cinema, have not achieved the widespread acclaim abroad that they deserve. This is the first to show here outside a festival or film society programme and it's a belter. It tells its story obliquely rather than bluntly and though it has a whiff of Hitchcock about it at times, it's an unconventional thriller with a political twist and, in the end, the heart of a melodrama.
In the former East Germany in 1980, Barbara (Hoss) begins work at a hospital in a backblocks town. We gradually gather that she is a respected paediatrician, exiled to the provinces after a spell in jail for disloyalty to the state.
Her new boss, Andre (Zehrfeld), is both more - and, as we later learn, less - than he seems and Barbara has to dodge the attentions of a hatchet-faced Stasi officer (Bock) as she develops an escape plan with her lover (Waschke), whom she clandestinely meets when he visits from the West.
Petzold's script is rich with telling details (a Trabant owner marvels at a modern Mercedes; a radio commentator rhapsodises about an East German Olympic triumph; unwanted children work in slave camps) that bring the old DDR to life. But the story has a deftly woven ethical fabric: the brief glimpse it gives us of a character dying of cancer resounds with multiple bleak ironies and underlines the way totalitarianism devalues the currency of human contact. Petzold never loses sight of his characters' individuality and forces them to do work as thematic functionaries.
The spare, drab interiors, where Barbara maintains her pretences, contrast with night scenes in which sudden lights flare menacingly and with the paths she cycles to and from work on, where the wind howls and the skies are dark and threatening. Meanwhile, the acting, in particular between the two main characters, is superbly restrained, full of mystery and nuance.
There are niggles: Barbara is improbably non-secretive about some smuggled gifts and the fate of one character remains a loose end. But this is a film of some mastery and, as a bonus, New Zealand gets honourable mention as a leading site of neonatal paediatric research.
Stars: 4/5
Cast: Nina Hoss, Ronald Zehrfeld, Jasna Fritzi Bauer, Mark Waschke, Rainer Bock
Director: Christian Petzold
Running time: 105 mins
Rating: M (sexual references). In German with English subtitles
Verdict: Elegant and restrained thriller
- TimeOut