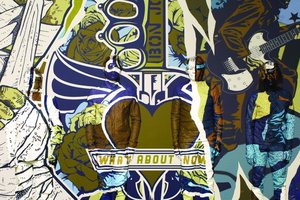 Another few years go by and another Bon Jovi album rolls off the production line. And it's easy to bag the boys from New Jersey, especially because they continue to trot out big middle of the road fist-pumping rock 'n' roll anthems at will. Then there's the fact the majority of people still remember them best - and often solely - for 1986's Slippery When Wet. Though Bad Medicine off the next album New Jersey still goes down a treat. And hey, in concert many of the songs from their 12th album, What About Now, would sit quite nicely alongside their early songs. But on record they just sound obvious and sometimes ineffectual.
Even Jon Bon Jovi sounds a little bored as he drawls and croons on dreary, strings-inflected ballad Thick as Thieves, and the awkwardly titled That's What the Water Made Me is just clumsy.
They do change it up slightly with a nod to Coldplay on the title track; hints of the soaring and dramatic arcs of Chris Martin and Jonny Buckland's songwriting equation. And perhaps the most exciting song is Pictures of You as it threatens to get its prog rock gallop on with a touch of 80s synth - but even still, it remains Bon Jovi to the core.
Stars: 2.5/5
Verdict: Yet another one for the true fans
Click here to buy What About Now.
- TimeOut