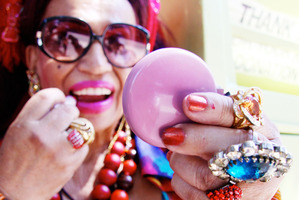 "Hold on to your wigs, the show is about to begin," boomed from the speakers and, within seconds, an eager festival audience was caught up in the cultural whirl of Jack Body's Songs and Dances of Desire.
Mere Boynton, intoning a magnificent karanga, led her fellow soloists from stalls to stage and, after a sun-drenched blast of orchestra, Chinese countertenor Xiao Ma was seducing us with the Seguidille from Bizet's Carmen.
The evening - a tribute to the late Carmen Rupe, and the major undertaking of Body's composing residency with Auckland Philharmonia Orchestra - was a big-hearted, life-embracing salute to cultural diversity and personal courage.
Dancer Jason Moore, in a series of dazzling set pieces, was the anchor in a programme of often wild contrasts.
Dressed in a series of extravagant creations, Moore caught Carmen the nightclub performer, twirling down from the ceiling in a sinuous African snake dance, and giving us a sultry Salome that Richard Strauss could never have imagined.
All done to Body's brilliant dance-pieces, showcasing the guitar of Norio Sato.
The directorial hand of Warwick Broadhead, the doyen of Auckland's alt.theatre, gauged just the right high-camp insouciance, balancing it against the relative starkness of Body's new vocal settings.
Mezzo-sopranos Anna Pierard and Mere Boynton, in Spanish and Maori, sang poems representing centuries of women's voices.
Pierard dealt in florid cantillations, nestling amongst pungent double reeds and coursing violins, Even with a throat infection that necessitated the cutting of her first number, she was riveting.
With Boynton singing in te reo, we were firmly in Aotearoa. Her music was more direct and primal, meaning that she was rewarded with laughs for a fierce chant mocking the amatory failings of a would-be Lothario.
Xiao Ma delivered his Carmen arias from above the orchestra. Elegant in white, his charming vowel inflections in both French and English added a special voluptuousness. Body's orchestral re-imaginings of Bizet were astonishingly inventive.
The APO played its collective heart out, under the experienced baton of Kenneth Young. Even when the composer's sometimes unsparing demands tested the musicians, a true festival spirit was never wanting.

Songs and Dances of Desire
Where: Auckland Town Hall
When: Friday
Reviewer: William Dart