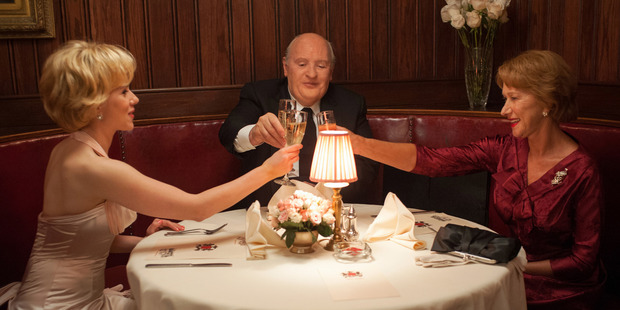 It may have a definitive sounding title, but Hitchcock isn't a biopic of the great director; rather it's a witty examination of Hitchcock's relationship with his wife and talented collaborator, Alma Reville, set against the backdrop of his most successful and controversial film, Psycho.
Inspired by Stephen Rebello's book - Alfred Hitchcock and the Making of Psycho - this begins at the premiere of his successful film North By Northwest in 1959. Unnerved when a reporter suggests that, at 60, he should quit while he's ahead, a restless Hitchcock almost immediately begins searching for his next project, preferably "something fresh, something different".
When Hitchcock comes across Psycho, Robert Bloch's gruesome book about serial murderer Ed Gein, he's convinced it's the perfect source material. When the studio and private investors refuse to fund the macabre story, the Hitchcocks must finance the film themselves.
Director Sacha Gervasi paints a broad picture of Hitchcock - including his fixation on his leading blondes - and has some fun with the director's dealings with American censors.
At its centre is a portrayal of the relationship between Alfred and Alma, celebrity director and his low-profile and often uncredited creative partner.
Frustrated by Hitchcock's cold manner, and his fascination with his actresses, Alma starts enjoying the company of a scriptwriter. .
With the Psycho shoot starting to unravel, the idea of his wife having an affair is too much for Hitchcock, who realises he needs to save his marriage so he can save his film. It was Alma, after all, who worked beside her husband in the editing suite - she noticed a supposedly dead Janet Leigh still moving - to help turn Psycho into a classic.
The pleasure of Hitchcock comes in large part from the sparring between Mirren and Hopkins. As you'd expect, they're a class act, delivering the old married couple routine with conviction and plenty of humour. Hitchcock aficionados though will likely be less impressed by the lack of deeper insight into his peculiar genius.
Stars: 3.5/5
Cast: Anthony Hopkins, Helen Mirren
Director: Sacha Gervasi
Running Time: 99 mins
Rating: M
Verdict: Pleasant, enjoyable and well acted
- TimeOut