Island reggae band brings eclectic mix of styles to Rotorua's Raggamuffin festival this weekend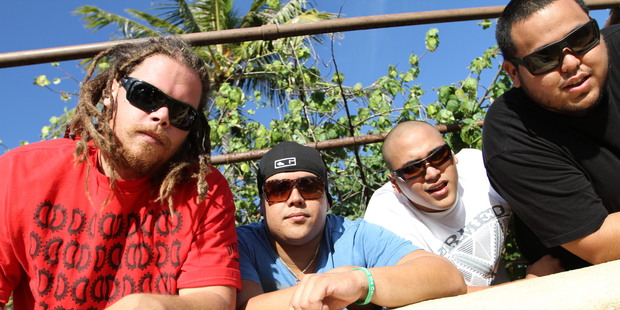 Though not as freaky and fruity, The Green are Hawaii's equivalent of New Zealand's most eccentric reggae band Kora.
"We're really into all forms of music," says guitarist and co-songwriter Zion Thompson. "We love pop, R&B, jazz, gospel, heavy metal, we love it all, but reggae has always been our favourite and it blends so well with other genres of music," he says, sounding very much like one of the Kora brothers who are just as influenced by reggae and dub as they are by heavy metal and chart-topping pop.
"You gotta extend it, and sponge off everything," says Thompson.
As an example of their diverse reach, last year the Green played 42 shows in a row on travelling punk rock road show the Vans Warped Tour, and this weekend they are in New Zealand for the first time at Rotorua's annual reggae event Raggamuffin.
They will be playing alongside headliner Lauryn Hill, the hip-hop soul diva who played the festival in 2010, Jamaican greats Toots and the Maytals, and Ali Campbell's UB40, as well as locals Herbs, the Black Seeds, and Katchafire.
Perhaps not surprisingly, what makes The Green unique is the influence of their homeland. Because although they grew up listening to rootsy Jamaican style reggae, they have also incorporated the Hawaiian reggae style "which is far more happy and playful" into their sound.
They also take influence from New Zealand's top reggae bands like Katchafire and Three Houses Down through to more unusual acts like Fat Freddy's Drop and Kora.
"It's really authentic roots music that has a background, and a history, but it's also fun and it's hard not to be down with the vibe if it catches you," Thompson says.
Their mix of styles comes through best on a song like Love & Affection off second album Ways & Means from last year, with it's hard-hitting dancehall foundation with rock riffs and a poppy hook throughout. "I mean, we just like to have fun," he says.
While The Green have only been together for three years, the four core members - Thompson, Caleb Keolanui (vocals), JP Kennedy (vocals/guitar), and Ikaika Antone (vocals/keyboards) - have been playing together for longer.
"We've known each other for a long time. We're all Oahu boys. Two of us are from the same town and the other two are basically family, they're cousins. So it's been a natural progression, meeting each other a while ago and then eventually, a few years later, we formed The Green.
"And the music community in Hawaii is so small that everybody has seen each other play, or knows their music, even before you get to know each other properly."
The Green's musical message is based on love, family, and pride in where they come from. "We believe in respect, not just for each other but for the land, the water, and we have that background in us, because we like to be playful and have fun, and we play love songs, but we also like to sing about where we come from and the hardships our people go through."
Because Hawaii, says Thompson, is not just a sunny place with the best waves in the world. "We're not scared to be honest about what comes out of Hawaii, because there are drugs, and there is poverty and homelessness. And that's stuff everyone can relate to too. It's just honest music."
They've released two albums in the last three years with their self-titled debut a more traditional sounding reggae album compared to Ways & Means, which had everything from rootsy reggae-meets-R&B tunes to dub and Hawaiian influences.
They are currently recording their third album and Thompson says it will be "more of a throwback to the first album vibe".
"But we are constantly progressing and we think it's going to be better than the second album, and hopefully better than the first. So it should be the best one yet."
Live preview
Who: Hawaiian band The Green
Listen to: Ways & Means (2011); The Green (2010)
Where: Raggamuffin, Rotorua International Stadium, today (gates open 5pm) and tomorrow (gates open 10am)
Line-up: Today DJ Sir-Vere & the Club Kingz; Pacific Reggae Mix; Darky Roots; Common Kings; Black Seeds; Gappy Ranks Saturday Village Stage: Zkabby Jams - Smokefree Pacifica Beat; Hot Rain Ft Siaosi; Three Houses Down; The Green; Fiji; J Boog (guest Monsta G). Main stage: Brownhill ft. SWISS; Tomorrow People; Rebelution; Katchafire; Herbs; Ali Campbell's UB40; Toots and the Maytals; Ms Lauryn Hill
Website: raggamuffin.co.nz