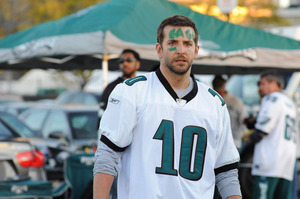 The new film by the man who cut his teeth on the excellent comedies Spanking the Monkey and Flirting with Disaster wants to have it both ways.
At times it treats the mental illnesses of its two main characters with a liberal, slightly hand-wringing concern; at others, their nuttiness is a charming source of fun.
It's typical of the unevenness of tone that is the movie's fatal flaw, though it doubtless accounts for its success in the Oscar nominations, where it's up for all of the big seven: Academy voters love handicapped heroes as long as they can have a good laugh, too.
The main character here is Pat Positano (Cooper), a history teacher emerging from a spell in court-ordered psychiatric care. The official diagnosis is bipolar disorder but when we learn what he did to get committed, it doesn't seem entirely irrational; his father, De Niro, a football fan and bookie who uses superstition as a business tool, is much crazier. Pat does his bit though, spitting the dummy at 3am when he finds out that A Farewell to Arms has a sad ending and stuff like that, all the while hoping his ex-wife will lift the restraining order and take him back.
Things change when Pat meets Tiffany Maxwell (Lawrence), a widow with a psychiatric history of her own. Each senses a kindred spirit in the other, though this doesn't play out predictably - they scrap like cat and dog, mostly, but they enter an improbable alliance, the details of which are best not spelled out.
Lawrence and Cooper spark off each other well, though her performance, full of subtle touches, shows his up somewhat. The scene in which the two of them share their medication experiences before horrified family members is a cracker.
But the script could have done with some serious trimming: it's 20 minutes too long and there are some seriously clunky moments, most of them in the Positano household. Its arc recalls Little Miss Sunshine but it has none of that screenplay's diamond-cut precision. At best, it's a gentle and undemanding crowd-pleaser; at worst, it's alarmingly banal.
Stars: 3.5/5
Cast: Bradley Cooper, Jennifer Lawrence, Robert De Niro, Jacki Weaver, Chris Tucker, Anupam Kher
Director: David O. Russell
Running time: 122 mins
Rating: M (violence, sexual references)
Verdict: Mostly diverting, sometimes banal
- TimeOut