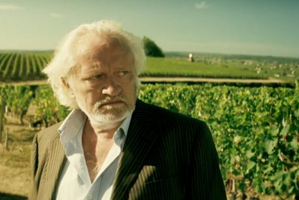 If it were a wine, this measured but rather obvious French melodrama would be assessed as promising more on the nose than it delivers on the palate.
It certainly confirms the versatility of the wonderful Arestrup, the Corsican hood of A Prophet, here playing Paul de Marseul, the arrogant and bibulous widower grandee of a St Emilion vineyard.
His ancient family connection to the terroir has imbued him with haughty disdain, chiefly for his son Martin (Deutsch), whose enthusiasm for the business is matched by his keen anxiety to please his father.
Martin has a head for business and plans for modernisation and expansion; Paul, who finds such preoccupations vulgar, is not letting him anywhere near the winemaking process. Instead, as the title suggests, he wants to install Philippe (Bridet), the son of his terminally ill estate manager (Chesnais), who is home on holiday from a spell on the Coppola estate in California.
Director Legrand (a veteran producer) and his debutante co-writer, novelist Delphine de Vigan, get to grips with one of the oldest tropes in drama: the disruption of the relationship between father and son that replicates itself down the generations. The problem is that they do so with no great subtlety or finesse.
The raw brutality of Paul's behaviour could have done with a more explicit motivation; as it is, it seems perverse and irrational. The same idea is repeated over and over until a climactic confrontation and its puzzling sequel.
Only Chesnais, whose character winds up playing an unexpectedly significant role, gives you the sense you're watching a real person, rather than an archetype. He knows, if his boss doesn't, that some traditions can't be interfered with.
Stars: 3/5
Cast: Niels Arestrup, Lorant Deutsch, Patrick Chesnais
Director: Gilles Legrand
Running time: 101 mins
Rating: M (offensive language and sexual references). In French with English subtitles
Verdict: Classy but heavy-handed
- TimeOut