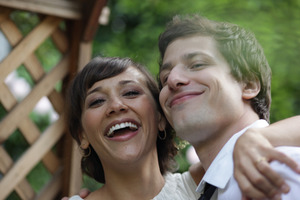 After being part of ensemble sitcoms The Office and Parks and Recreation and the occasional movie bit-part, actress Rashida Jones has created her own leading role. Celeste and Jesse Forever is her debut screenwriting effort - written alongside Will McCormack, who also has a supporting role in this romantic comedy - and, for the most part, it's sassy, smart and enjoyable. The title is a little misleading; it's a film more about the downside of love as we follow Celeste (Jones) and Jesse (Samberg) through their separation and divorce. Celeste is a fast-talking, confident and ambitious co-owner of a Los Angeles media company, and Jesse is her high school sweetheart and a bit of a slacker. After six years of married life Celeste decides it's best they part as friends, before their different approaches to life tears them apart. When she gets her way though, she finds it's harder to let go of the love of your life than you may imagine.
This film is a little like Celeste's character, keen to be a trendsetter and edgy and cool, but managing to pull it off only in patches.
It may have the genre's characteristic predictability, but it's still refreshing to see a rom-com that starts where most end, although it's starting to become the new normal - think The Five-Year Engagement, The Break-Up, and impending I Give It a Year.
There are plenty of laughs to balance the observations on heartbreak and more melancholic moments, yet there are also some embarrassing gags, such as Celeste and Jesse's habit of masturbating lip balm tubes, that just don't fly. This comedy is also let down by unnecessary side stories too that add nothing to the couple's story, such as the album cover Celeste creates for a young pop star (Emma Roberts) that accidentally looks like male genitals.
Regardless, Celeste and Jesse Forever has more substance and more fun that the average rom-com, and Jones proves she's got what it takes to be a husky-voiced, self-deprecating and likeable leading lady.
Stars: 3.5/5
Cast: Rashida Jones, Andy Samberg
Director: Lee Toland Krieger
Running time: 92 mins
Rating: R16 (drug use, sex scenes and offensive language)
Verdict: An irreverent and amusing take on the reality of divorce
- TimeOut