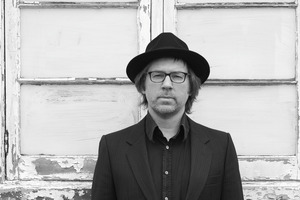 With past whimsical electronic pop classics like Southern Lights and Lost Soul Music, SJD sure is a unique Kiwi music-maker. You might remember the magical Superman, You're Crying and the cruisy ad jingle-like mantra of Tree People from those respective records?
On his sixth album - the follow-up to the punchy and sometimes funky Dayglo Spectres from 2008 - he goes back to his solo electronic knob-twiddling roots, similar to his self-released debut, 3, from 1999. Elastic Wasteland, though, is a more refined and regal set of songs conjured up with just synthesizers, drum machines and his calming voice.
As the man himself, real name Sean James Donnelly, says, "no acoustic instruments were harmed, or even used, in the making of Elastic Wasteland".
It's been a longer wait than usual between albums because since Dayglo he has been laid low with a bout of ill health, and musically he has also co-produced and played keyboards in Neil Finn's Pajama Club, formed the Bellbirds with Don McGlashan, and recorded an all-star cover of Chris Knox's Not Given Lightly for the Breast Cancer Foundation.
The thing about Elastic Wasteland is that it's often melancholic in mood and frosty sounding, but somehow always inviting and intriguing.
At times it is pulsing, beautiful, and slightly menacing dance music for slipper-wearing lounge lizards, like on the distorted glitch and enchanting pulse of Empty World and thrumming opener and standout track The Lizard Kings.
But you'll well and truly kick those slippers off to the tremulous Kraftwerk beats and cylon vocoder vocals of Jumping Over Fences, and the sci-fi house of Hypnotised by Roads, which is the most oonst-influenced SJD has ever been.
Then there's the contrast between songs like the noisy modern shoegaze and ambient swirl of Lena, the singer-songwriter electronica of Song of Baal and the quiet, almost hymnal closer Wolves. It's stunning stuff.
And lyrically he's at his best with lines like "give thanks to the lizard lords on high" (The Lizard Kings) and "deflating in the corner to distorted disco tunes, with drunk uncles breathing fumes" from On the Driveway, all delivered in that lovely languid voice of his.
Donnelly has never done a dud album, and he's not about to start now, even when he's come up with something quite different from what he's created before. Elastic Wasteland is bold and unique, yet effortless, charming and masterfully crafted.
Stars: 4.5/5
Verdict: Another gem, only this time it's entirely synth-powered
Click here to buy a copy of Elastic Wasteland by SJD.
- TimeOut