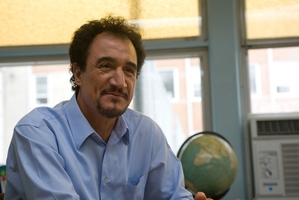 It took a film as superb as Asghar Farhadi's A Separation to beat this sublime French-Canadian drama to the Oscar for best foreign film, but it must have been a close-run thing. It's hard to think of any other recent movie that has had the same alertness to the humanity of its characters and such exquisitely calibrated and generous performances.
In its opening scene, 11-year-old Simon (Neron), carrying out his milk monitor duties at school in snowy Montreal, is confronted by his teacher, hanging lifeless in the empty classroom. The film that follows explores the impact of that event on the school community and in particular, the way in which adults project their anxieties on to children.
The catalyst for that exploration is the title character, an Algerian immigrant who turns up offering to fill in while the principal appoints a replacement. He has a back-story of his own, we will learn, one that makes him something of an expert in matters of grief and loss. He has something to learn of the culture of the class and of his new country - the French is different and you don't clout the kids - but they have much to learn from him too.
And there is something close to magic about the way the script, originally a stage play, uses the fables of La Fontaine as both a teaching tool and a narrative device.
Fellag, a Paris-based writer and theatre actor, delivers one of the most achingly authentic and accessible screen characters in recent memory, equal parts sadness and tenderness, and the director also elicits riveting performances from the kids - notably Nelisse as Simon's best friend. The scene in which Simon tearfully reveals a painful secret is something to behold. This is a very special film.
Stars: 4.5/5
Cast: Mohammed Fellag, Emilien Neron, Sophie Nelisse, Danielle Proulx, Brigitte Poupart
Director: Philippe Falardeau
Running time: 94 mins
Rating: M (adult themes) In French with English subtitles
Verdict: Something special
- TimeOut