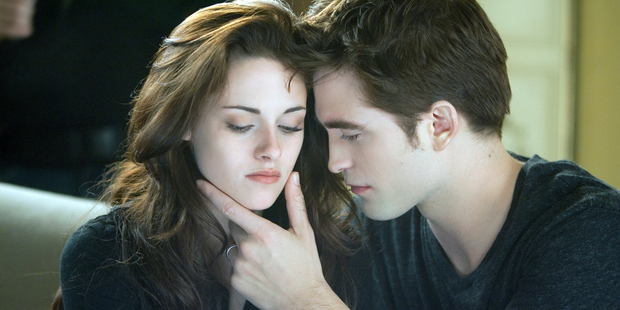 It's been a year since Bella Swan (Stewart) and Edward Cullen (Pattinson) got married, went on honeymoon and had a baby in Part 1 of the final Twilight story, based on the young adult novel series by Stephanie Meyer.
Part 2 hardly skips a beat in picking up where we left off, with Bella now a fully-fledged member of the vampire fraternity, relishing her new life and extraordinary powers, and slowly getting her bloodthirsty urges under control. With Edward and their half-human/half vampire daughter Renesmee (who is growing almost a year a month) they have moved into their own cottage not far from the Cullen family home in the woods around Forks in Washington State.
Life is good, with Bella and Edward finally together and enjoying modest and artfully-shot vampire sex. It's not long, though, before Edward's sister Alice has a vision revealing that the Volturi, the coven that enforce vampire laws, are on their way to kill Renesmee, believing she was born human and turned into a dangerous immortal child in breech of vampire rules.
Edward's family ask their allies from around the world to come to Forks to witness that Renesmee is not an immortal child, and to stand with them against the Volturi. It's not long before the United Nations of vampires have gathered at the Cullens for a final showdown.
Part 2 is more tolerable than the long and drawn out Part 1. The characters have matured, the melodramatic overacting has been toned down, and more of the action plays out during daylight hours so we can actually see what's going on. It also seems that having a child to think about, rather than just themselves, has made Edward, Bella and Jacob (Lautner), who is Renesmee's guardian, much more likeable.
Bella is no longer a sullen teenager, and with her new vampire power and physical strength she joins in the action rather than just standing, fretting, on the sidelines.
Lautner is still required remove his shirt but his character is more bearable now he has moved on from his teenage infatuation with Bella.
Some things remain the same, there is little improvement in the script, with the cheesy dialogue still a feature, and director Bill Condon (the only director who's done more than one Twilight film) once again fails to hit the dramatic high points with any emotional punch, urgency or tension.
I'm still not convinced this final is better for being in two parts rather than a single exhilarating film. We see the best of the story in an action-packed climax, if only there was more of this kind of entertaining action throughout. Though, somehow, I don't think the fans will mind a bit.
Stars: 3/5
Cast: Kristen Stewart, Robert Pattinson, Taylor Lautner
Director: Bill Condon
Running Time: 115 mins
Rating: M (Fantasy violence)
Verdict: A nostalgic finale for the Twihard fans.
-TimeOut