From the forests of Sweden to the Waikato town of Cambridge, Scott Kara reviews the latest batch of rock releases from around the world.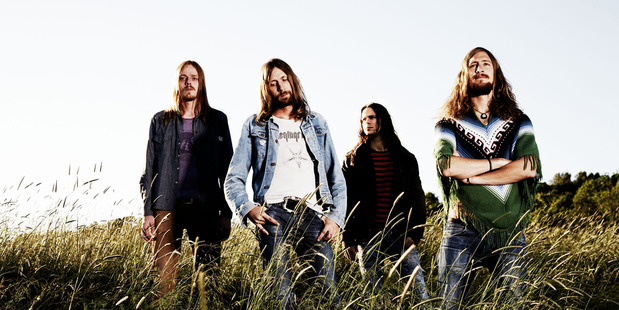 They may look like a bunch of hippies who have sloped out of a delta swamp somewhere. And though there are a few swampy riffs in Graveyard's throwback heavy rock sound, they actually come sauntering out of the forests of Gothenburg, Sweden.
After two albums, including last year's excellent Hisingen Blues, Lights Out is a more varied and smouldering beast. Not that opener An Industry of Murder is any indication of that; it keeps up Graveyard's trademark mix of 70s psychedelic rock heaviness, a thudding Sabbath stomp and fuzz, with singer Joakim Nilsson's crispy crackling voice hollering over the top.
But by second track Slow Motion Countdown they have moved into swooning and crooning soul rock mode, which initially comes across as soppy, but escalates beautifully into a throatie torch song.
That's the beauty of Graveyard, they can move from ragged and unhinged on the chest-beating Goliath, to an eloquent and poised chugger like on The Suits, The Law, & the Uniforms, and then the simmering, Swedish Doors' mantra of 20/20 (Tunnel Vision).
Kiwi rock stalwarts the Datsuns are fans of Graveyard, and it's not just because ex-Cambridge lad and frontman Dolf de Borst lives in Sweden these days. They have much in common with the Swedes retro rock approach. And similar to Graveyard's more expansive sound on Lights Out, the Datsuns' fifth album, Death Rattle Boogie, is also their most diverse and interesting yet. While not having the wild and raw thrill of their 2002 debut, it's their best album to date too. Because let's face it, they've always been better live than on record. But on Death Rattle Boogie they sound ambitious and self-assured, while still keen to cut loose, so it takes in the hair-flailing, helicopter-guitar riffs of Gold Halo ("There's blood on the tracks, from your heart it's a fact"), the thigh-slapping Colour of the Moon (think good time Lynyrd Skynyrd), and best of all, the trippy, smoking and scorching Wander the Night. The latter song is a sure sign the Datsuns are showing their age, but they are also sounding wiser.
Though on a different sonic rock path, another standout local release is the debut album from New Way Home. The Auckland band - formed out of the ashes of bands like Sommerset and Day One - have been around for a number of years, releasing an EP in 2005 and making a racket on the live hardcore and metal scene. On Mirrors they retain the nice nastiness that gives them a solid base of grit and mongrel, but move effortlessly into a more sweeping, mainstream rock direction on the beautiful Tides (that recalls Blindspott but with a breathy and dynamic Deftones edge) and expansive swooning epic Saturn. But, and this is the key, they are never far from launching full tilt back into deathly and mangled tracks like Atrophy and scything slammer Black Eyes. But the standout is Paper Hearts, a relentless thumper that conjures up the spirit of Swedish titans Meshuggah, but thankfully not so maniacal as it swoops and soars with a melodic metal power.
A band pushing an even more commercial heavy agenda is Stone Sour - the other band of Corey Taylor who is perhaps best known as the singer in masked Iowa metallers Slipknot. It's all swerving and careering guitar solos, slabs of chest-puffing rawk, and pure rock singing mixed with occasional growls and roars.
Taylor formed Stone Sour before Slipknot, way back in the early 90s. However, they went on hiatus for five years until reconvening in 2002 and House of Gold & Bones Pt. 1 (the second instalment is out mid next year) is the band's fourth album.
While it's solid modern rock, there are moments where it lapses into bog standard territory akin to mainstream metallers Disturbed. And yes, while there is much to be said for breaking up the heavy riffage and rage with something more subtle, The Travellers Pt. 1 is a weak, acoustic, strings-soaked interlude. Although all is forgiven as the strings morph into scary horror film mode as they lead in to Tired, and the combination of glowering riffs and haunting Nine Inch Nails-style piano on Travellers Pt. 2 is inspired. But it's frighteningly fierce finale The Last of the Real that proves just how devastating Stone Sour can be.
And finally, plant your feet and ready yourself for Texan throwback metallers the Sword. They create a sound that pays tribute to greats like Led Zeppelin, Black Sabbath, and Metallica (who the Sword supported in Christchurch in 2010), but put their own southern fried swagger into it with singer and guitarist J.D. Cronise's menacing and trebly Ozzy Osbourne-like voice leading the way.
And also like the masters of old, there is no mucking around with the Sword, and right from the start of first track The Veil of Isis they settle into a giant groove and go about the business of playing rock 'n' roll. Which makes Apocryphon a tough, good-time heavy metal boogie. The summer of rock starts here.
Graveyard - Lights Out
Stars: 4/5
Verdict: All aboard the Swedish psyche rock time machine
New Way Home - Mirrors
Stars: 4/5
Verdict: Locals hard and heavy push into the mainstream
Stone Sour - House of Gold & Bones Pt. 1
Stars: 3.5/5
Verdict: Slipknot singer's spit polished and solid other bandssss
The Sword - Apocryphon
Stars:
Verdict: Texans make retro modern metal
The Datsuns - Death Rattle Boogie
Stars: 4/5
Verdict: Their best album yet
-TimeOut