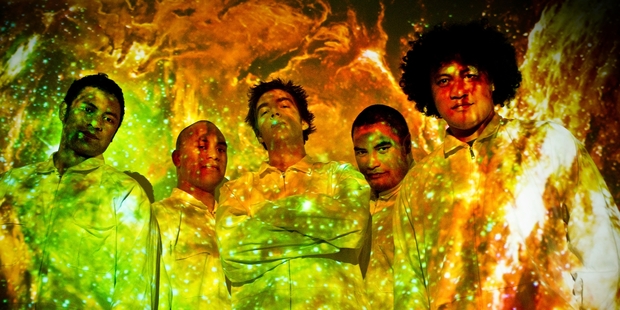 Since the release of their debut album five long years ago the four Kora brothers and their music-making mate Dan McGruer have toured the world, and, by the sounds of this fascinating follow-up, done a spot of space travel to a distant planet and swiped some futuristic ideas.
Musically they have always been ambitious, and that debut brought together everything from reggae and soul to metal and happy hardcore. And though popular, selling more than 30,000 copies, it never quite worked entirely.
But on Light Years they have nailed it, crafting an utterly unique collection of intriguingly catchy pop music. Be warned though, it takes a lot of getting used to. But stick with it and let tracks like cosmic nursery rhyme, Little Star, and spectral-hip-hop-reggae-soul-symphony, Drop Dead Killer, get inside you and bubble beneath your skin.
It's odd though, because there are clear nods to the band's diverse musical influences, from the soul jam of Galaxy Express to the jarring thud and brassy stomp of Bad Thing.
And often the songs resemble versions of cracking good tunes from the past, like stealth reggae dance floor track Take You Down getting its Justin Timberlake SexyBack groove on, Hit the Wall could be a long-lost Outkast song-meets-Tainted Love, and the computerised soul glitch of Dream Life recalls Sign O the Times-era Prince.
Yet Kora manage to come up with a sound you've never heard before. It also has a feeling that it shouldn't work, but it does. Like album stand out Story Ain't Over which is a R&B-soul anthem with a musical backdrop of floor-bending electro funk and something like the theme tune from British TV science show Tomorrow's World all in one.
And there's some cheesy sentiment, like, "I'd rather be hated for being myself, than to be loved for being someone else" on Last Generation, and the line "I've got your destination in my GPS" from Galaxy Express, which provokes a chuckle rather than something romantic. Also, Love in the Shadows might leave you feeling a little "dirty".
However, the beauty of Kora is their pop sensibility combined with a fun-loving and fantastical vision about the possibilities and directions music can be taken in. And at the album's core is music that is light years ahead of almost anything else that's out there at present.
Stars: 4.5/5
Verdict: The weird and wonderful future of pop.
Click here to buy a copy of Kora's new album, Light Years.
-TimeOut