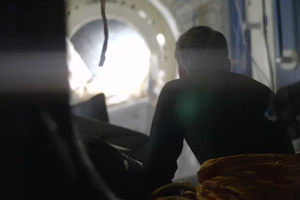 Commissioned by the US art-rock supergroup Angels & Airwaves, and released at a live-streamed event called Love Live on August 10 last year, this sci-fi drama showcases an awesome technical proficiency, particularly when considered in the light of its US$500,000 ($611,000) budget, though it's conceptually a little out of its depth.
An opening sequence set in the US Civil War shows a Union soldier (Horn) being sent from the bloody battlefield by his commanding officer to investigate "an object of the grandest design" discovered east of the Colorado basin.
We don't see that object until much later, although by then we're not surprised about the nature of it because we've been flashed forward a couple of centuries and on to an international space station in Earth orbit. Its sole occupant, Lee Miller (Wright), soon needs to tell Houston that he has a problem. The bigger problem is that Houston's not answering.
Wright, aided by director Eubank's accomplished cinematography and production design, depicts Miller's slow meltdown with unnerving precision, though as he is joined on the spaceship by figments of his warping imagination, the philosophical subtext varies between obscure and banal.
The same goes for inserts of odd interviews with civilians, sequences set in an Iraq-style war and returns to the original battlefield.
It all has the flavour of a high-concept rock video or a very cool advertising campaign - Eubank has plenty of form in both genres - but the narrative, such as it is, is frustratingly opaque. The film seems to channel equal parts Kubrick's 2001 and Bowie's Space Oddity to argue that we all need each other, which seems a slight a conclusion after so much palaver.
Having said that, there is no denying the skill on show and the soundtrack, full of generous lashings of the punchy and/or dreamy A&A music, is spellbinding.
Stars: 3.5/5
Cast: Gunner Wright, Bradley Horn
Director: William Eubank
Running time: 84 mins
Rating: M (offensive language)
Verdict: Oodles of style, elusive substance
-TimeOut