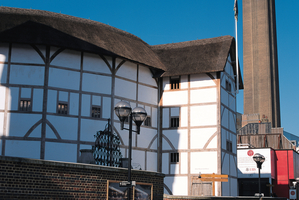 If you have not had the pleasure of going to the recreation of Shakespeare's Globe on London's South Bank to see a production, this is the next best thing, with the added bonus that the rain that soaked this filmed performance won't be dribbling down your neck.
In an attempt to replicate the success of the NT Live model, the Globe has released three filmed versions of recent shows (All's Well That Ends Well arrived unheralded and departed last month; Marlowe's Doctor Faustus opens on the 25th).
This production suffers by comparison with the NT ones for the predictable reason that the open-air setting demands an audibly declamatory style, which permits less subtlety than we have become accustomed to - although the sometimes ramshackle staging is probably very close to what Shakespeare's audiences would have seen.
The perils of that approach are most notable in the comic scenes: as Dogberry, the constable who is the embodiment of smug incompetence, Paul Hunter seems to channel Frankie Howerd, though the other members of the nightwatch deliver full comic value.
But Best and Edwards, as the wrangling Beatrice and Benedick, the couple who are "too wise to woo peaceably", are excellent. They may not scale the dizzy heights of Emma Thompson and Kenneth Branagh in the 1993 film, which is the best-spoken Shakespeare I've seen on any screen, but they achieve a real fire.
The Globe's practice of using the complete text can make some scenes drag and it foregrounds the play's darker elements, which were played down by Branagh.
Like all the women wrongly accused of infidelity in Shakespeare - think Desdemona in Othello and Hermione in The Winter's Tale - the ill-used Hero ups the moral ante of a play that might otherwise be simply ... playful.
But the playwright's sense of the human predilection for sabotaging our own romantic desires remains as lucid as ever, and gives the show lay a very modern edge.
Stars: 3.5/5
Cast: Eve Best, Charles Edwards, Paul Hunter, Ewan Stewart
Director: Jeremy Herrin
Rating: M (offensive language and sexual references)
Running time: 166 mins
Verdict: Better than standing in the rain
-TimeOut