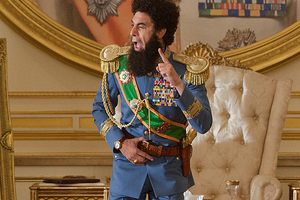 Borat and Bruno were exercises in ridiculousness, as UK comedian Sacha Baron Cohen invented a bizarre character to expose American prejudices and send up stereotypes in 'gotcha!' style setups.
But The Dictator is an altogether different beast: For a start, it has a proper script, with Cohen playing Admiral General Aladeen, an arrogant and excessive North African dictator who finds himself lost in New York and forced to work in an organic food store.
The character and story are deliberately controversial, a typical Cohen move. But what's not typical is that many of his jokes here fall flat. At their best, they range from mildly amusing (the helicopter "9/11" discussion) to the inane (the big breasted security guard).
It lacks the element of surprise that was the key to making Borat and Bruno so successful, meaning The Dictator flops about before landing somewhere around his lacklustre 2002 movie Ali G Indahouse.
Perhaps it's time for Cohen to take a few tips from General Aladeen's foray into organic foodstuffs and learn some new tricks. Otherwise his schtick is getting old.
Extras: Deleted and extended scenes, music video and an interview with Larry King.
Stars: 2/5
- nzherald.co.nz