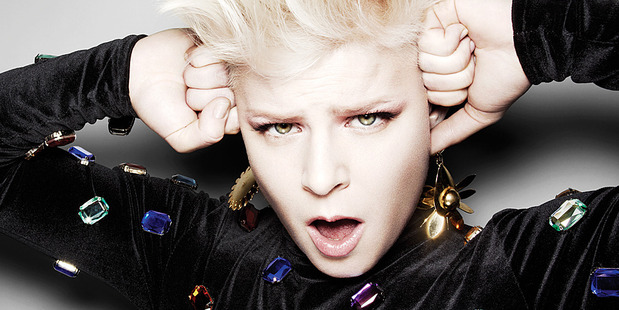 Is she a Katy Perry-styled pop princess? A sultry Swedish sex symbol? A frenetic former aerobics instructor? Or is she just a pissed off ex-girlfriend with a giant chip on her shoulder?
At her first New Zealand show, Robyn proved to be all of those things, and more: Just like the video for her break out hit Handle Me, her brand of ridiculously energetic and feisty synth-pop can't be put into any kind of box.
That's thanks to a career packed with kooky girl power hits that push pop's boundaries into hip-hop, disco, reggae, funk and indie-electronica territories, and she proceeded to use them to work the Powerstation's sold out crowd into a frenzy from beginning to end.
She barely paused for breath during the 90-minute show, which included two encores, an occasionally blinding lighting show, a live band that resembled a team of mad scientists, and more aerobics workouts than a Suzy Aitken fitness video.
Robyn thrilled throughout, whether she was mixing the robotic rave-funk of We Dance to the Beat into the the bolshy Don't F***ing Tell Me What To Do, getting loud and rawkish on the shouty stomp of Indestructible or proving her 'I am woman, hear me roar' credentials during Cobrastyle.
She mixed things up too, showing off her robo-rap skills on Konichiwa Bitches (which came with the great line aimed at a dodgy ex: "I'll ice you, son"), getting all anthemic on crowd favourite Call Your Girlfriend, and even ending the show with her 1997 hit Show Me Love, a song taken from the 33-year-old's early beginnings as a cheesy pop-R&B chart prospect.
She tossed out midset highlights, like the claustrophobic dubsteppy stride of None of Dem and the dubby reggae lope of Dancehall Queen, like they were castoffs, showing just how prolific she's been thanks to 2010's three Body Talk releases.
But nothing could top Dancing On My Own, a shimmering power pop ballad that will probably go down as the biggest sing-along experienced yet at the Powerstation, and for the only time in the show allowed Robyn a chance to sit down and catch her breath.
Handle Me was the only glaring omission and she had the help of a vocal backing track for most of the show, but you can't blame her: Robyn danced her arse off, performing like she was played to a crowd of 10,000, not the Powerstation's intimate size.
Next time, expect to see her funk up a much bigger venue.
Who: Robyn
Where: The Powerstation, Auckland
When: Thursday, October 4