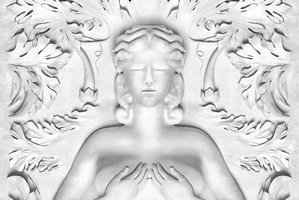 No matter what you think of Kanye West and his egotistical antics, he remains the most interesting and inventive artist working in rap today. He's also the most open: "My girl a superstar all from a home movie," West raps on the sublimely menacing Clique, a reference to current squeeze Kim Kardashian's infamous sex tape.
It's a shame there aren't more ultra-personal moments like that on Cruel Summer, a showcase for West's G.O.O.D. Music collective that veers between brilliant, boring and bonkers in equal measures. Occasionally they leave you breathless, like Pusha T and Ghostface Killah's fired-up exchanges over the Watch the Throne-style widescreen lope of highlight New God Flow.
It's a trick repeated on the minimal blips and bleeps of Cold and the old-school thump of group effort The Morning. So there's no faulting the album's production, but there are too many hit-and-miss guest spots, like Kid Cudi's career low on Creepers, John Legend's warped R&B symphony Bliss, and Big Sean's ridiculous "ass" metaphors on Mercy.
Otherwise it's an enjoyable but wayward rap party, but Cruel Summer lacks the single-minded vision West displayed on 2010's My Beautiful Dark Twisted Fantasy. If rumours of a sequel called Cruel Winter are true, let's have more Kanye please.
Stars: 3.5/5
Verdict: Not enough Kanye

- TimeOut