Wainwright's moving, theatrical evening leads to a triumphant finish.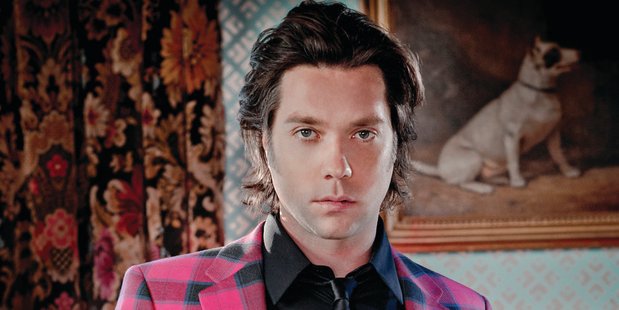 It will be hard to forget the image of a giant panini and martini glass dancing together with audience members on stage at the Civic Theatre, but it was only one of the memorable moments delivered by delightfully flamboyant yet soulful songwriter Rufus Wainwright on Friday night.
The wonderfully decadent "bacchanalian dance party" encore was indicative of his joyous mood all through the concert - for he had much to celebrate.
Since he last performed here in 2010, Wainwright has become a father, married, and released a seventh studio album Out of the Game - which was produced by Mark Ronson, and recorded with the Dap Kings.
Although he didn't have the Dap Kings, his tight seven-piece band (including talented vocalists Krystle Warren and Teddy Thompson) more than made up for it. With Warren having drawn the audience into a cosy embrace during her lovely opening set, when candles were lit and the lights dimmed to darkness for Wainwright's opening number, they were ready in hushed silence.
Emerging wearing a white suit decorated with shards of mirror (his wedding suit), Wainwright's a capella delivery of Candles sent shivers down the collective spines of the crowd. From there he launched straight into his swinging ode to New York party life, Rashida, which ended with a stunning vocal solo from backing singer Charysse Blackman, and then the cruisey Californian tribute to his publicist Barbara , Barbara.
Then it was time for a trip down memory lane with three older favourites, before leaving Thompson and Warren to perform covers of his mother's songs.
In a highlight of the evening, Wainwright then returned to perform Respectable Dive - a loping, truthful, love song, that's as soul-baring as they come.
Tracks like Jericho and Montauk were also brilliantly sparkling, but one song that will long stick in many minds was his father's One Man Guy which he covered in soaring harmony with Thompson and Blackman.
Rounding out the night with trippy electro-Baroque number Bitter Tears and doing Gay Messiah dressed like a Greek god was a triumphant way to end a show that was as moving as it was theatrical. Cheers to you Rufus.
What: Rufus Wainwright
Where: Civic Theatre, Auckland
When: Friday, September 21
* What did you think of the show? Post your comments below.