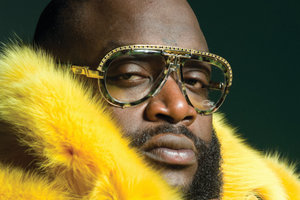 Rick Ross is not the best rapper in the world and it's unlikely he ever will be. But what the Mississippi native does have is an ear for matching the right beats to his gruff, authoritative flow, and a collection of high-profile friends on speed dial.
Ross makes the most of his limited talents on God Forgives, I Don't, a boom-rap record that delves heavily into his favourite topics: selling drugs, accumulating wealth and lurid sex.
In small doses, it can be enjoyable, like the horn stabs and over-the-top boasts of Pirates, and the apocalyptic tones of 911, a song which comes with the hilarious chorus: "If I die today, on the highway to heaven, can I let the top down, in my 911?"
But Ross' shortcomings are highlighted by the tiring repetition and aggression of Hold Me Back, while Sophisticated is basically a collection of unrelated boasts, like "just bought a chopper 'cause the last one, got it confiscated".
And Ross' friends continually trump him in various guest spots, like Andre 3000's weirdo verse and guitar solo on throwback ballad Sixteen and the underrated Wale on Diced Pineapples.
When a lacklustre Jay-Z verse on 3 Kings proves to be the best thing on God Forgives, I Don't, it only shows just how far behind the pack Rick Ross really is.
Stars: 3/5
Verdict: Guests outshine star on rapper's fifth album.
Buy this album here.
-TimeOut