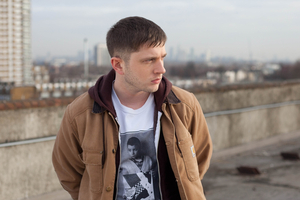 "You're in for a harrowing ride" warns Plan B early on his third album. The 28-year-old British rapper, whose real name is Ben Drew, sure got that right: Ill Manors is an ambitious and uncompromising listen that serves as the soundtrack to a movie he wrote and directed of the same name.
The film follows a group of street thugs fighting for respect in a London slum and has been getting rave reviews, so it's no surprise that the accompanying soundtrack, a double album featuring new Plan B music and the film's score, is the perfect match.
Like Skinnyman's 2004 release Council Estate of Mind, Ill Manors is a grimy portrayal - Plan B calls it an "urban safari" - of British youth sub-culture revolving around drugs, gangs, violence, chavs and pregnant prostitutes.
Interspersed with movie quotes and police sirens, it's brutal, bruising stuff, like the chilling story of a pregnant heroin addict named Janet that opens Drug Dealer's sub-bass lope, the electronic breakbeat flurry of the title track and Great Day For a Murder's unsettling chimes, a song that opens with the line: "what a great day to go and get a gun".
Thankfully, it ends on a high note with the "everything will be okay" chorus of Falling Down, but Plan B is at his best detailing society's ills, and on Ill Manors he's found the form of his career.
Stars: 4/5
Verdict: British rapper's terrifying tour of London's underbelly
Buy a copy of Ill Manors by Plan B here.
- TimeOut